Highlights from Fall 2018 Days of Taste Program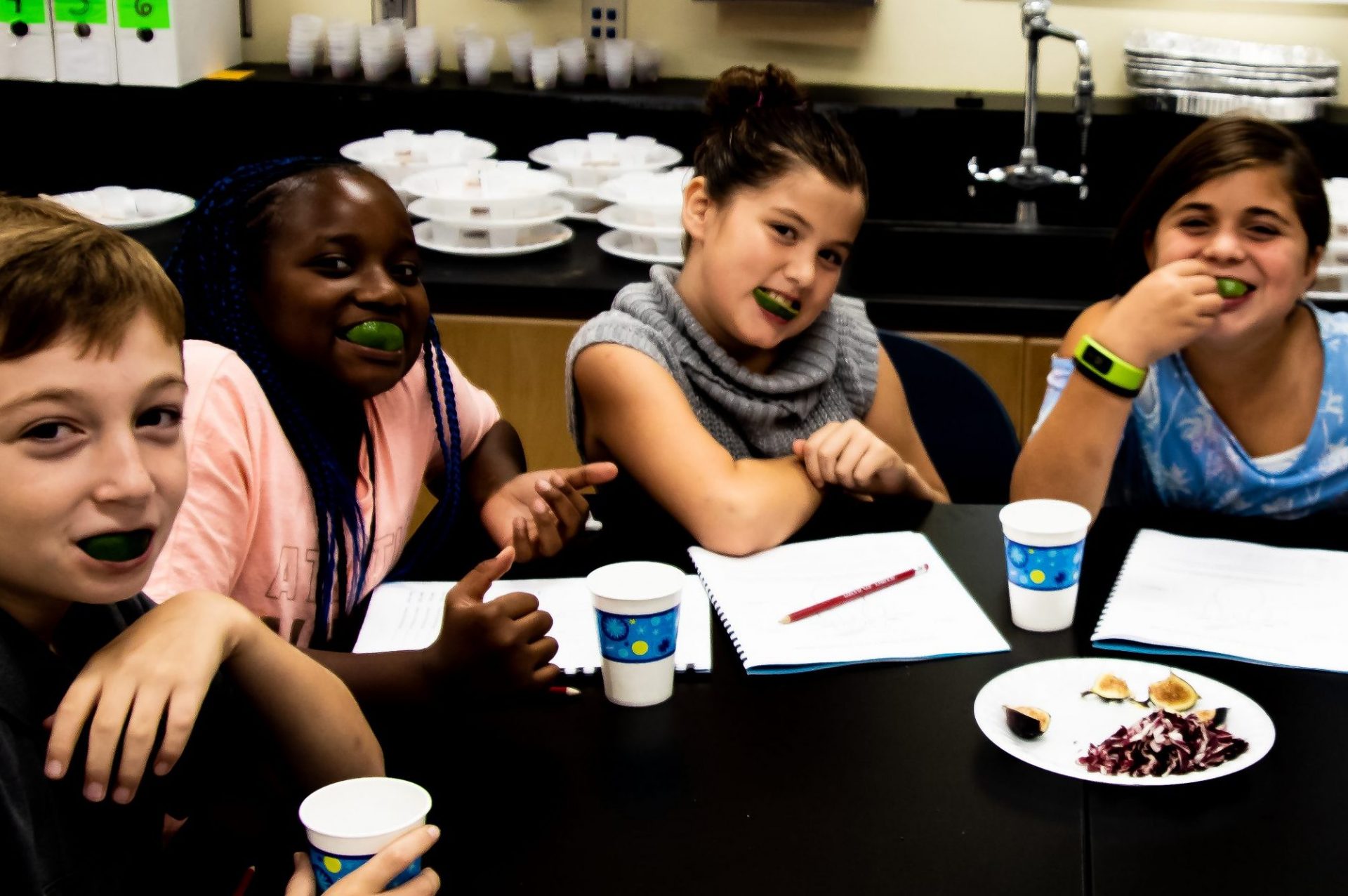 by Wendy Jeffries, Executive Director, TasteWise Kids
Days of Taste went by in a whirlwind this fall, with approximately
1625 fourth graders in 18 elementary schools
in Baltimore City and Baltimore, Howard and Harford Counties participating in less than 5 weeks. With each school participating in the program for 3 days (for a total of 54 days), that means that
on any given school day in October, chances were good that fourth graders from at least two schools were taking part in Days of Taste somewhere in the Baltimore metro area
.
A few of the highlights this fall:
Chefs were focused on showcasing local, seasonal produce – from Owings Mills students making a classic kale and carrot salad with maple dressing with

Chef Dave Sherman

(G&G, in R. House), to the more exotic pumpkin and kale salad at John Ruhrah with

Chefs Mile Montezuma and Genesis Flores

(Alma Cocina Latina) and Govans students' kale salad with grated sweet potatoes and pears with

Chef Dave Thomas

(Ida B's). Root vegetables also took center-stage, as

Chef Susan Muldoon

(The Vandiver Inn) brought both raw and roasted radishes for Havre de Grace students to compare, and

Chef Chris Amendola

(Foraged) brought a colorful trio of locally-grown baby carrots, turnips and radishes – with the greens still attached! – for Harford Heights students' culinary creations.
The farm trips were amazing this fall, despite the record-breaking rainfall. Learning about the role of bees in pollination and honey production, and the importance of compost in raising healthy plants, were part of almost every farm visit. Students loved searching for worms and other creatures in the compost at

Myrtle Woods Farm

in Howard County and many others, and were extremely impressed, although less enthusiastic, about the smell of horse manure in the compost at

One Straw Farm

. Most amazing to many of the adults, as well as the kids –rice growing at

Real Food Farm

! Who knew we had rice paddies in Baltimore City?
Following the 3-day Days of Taste program at 6 schools,

600 students and teachers received salad kits

with ingredients for salad & dressing to take home to prepare salad with their families.
One of our programming goals is to build community by bringing family and friends around the table. The program at John Ruhrah elementary in Baltimore City was truly a community event. Days of Taste at John Ruhrah was funded by Pompeian Oil Company (less than 4 miles from the school), and many of the volunteers were Pompeian employees. Tremendous thanks to Mattan Shavrit (Pompeian Corporate Social Responsibility Manager) and Renee Evans (Pompeian Director of Human Resources, and TasteWise Kids Board member), along with Margie Hatch of the Southeast Community Development Corporation, for their help in coordinating Days of Taste at the school. During the 3-morning program, students worked with chefs Mile Montezuma and Genesis Flores from Alma Cocina Latina, and visited Real Food Farm, both about 5 miles from the school, furthering the community-focused experience. The Chefs guided the students in English and in Spanish, adding to the comfortable, warm spirit surrounding everyone sharing food together.
Many thanks to all our generous supporters this past year
– United HealthCare, Johns Hopkins, The Ravens Foundation, Women's Giving Circle of Harford County, Harford County Department of Agriculture, Howard County Hospital, The Links Columbia MD Chapter, Howard County Medical Society and many more. Thanks also to our many collaborators, our wonderful Days of Taste Chefs, our terrific farmers and dozens of fantastic volunteers (special shout out to Master Gardeners in Howard and Harford Counties). They are the people that make our Days of Taste program a success.