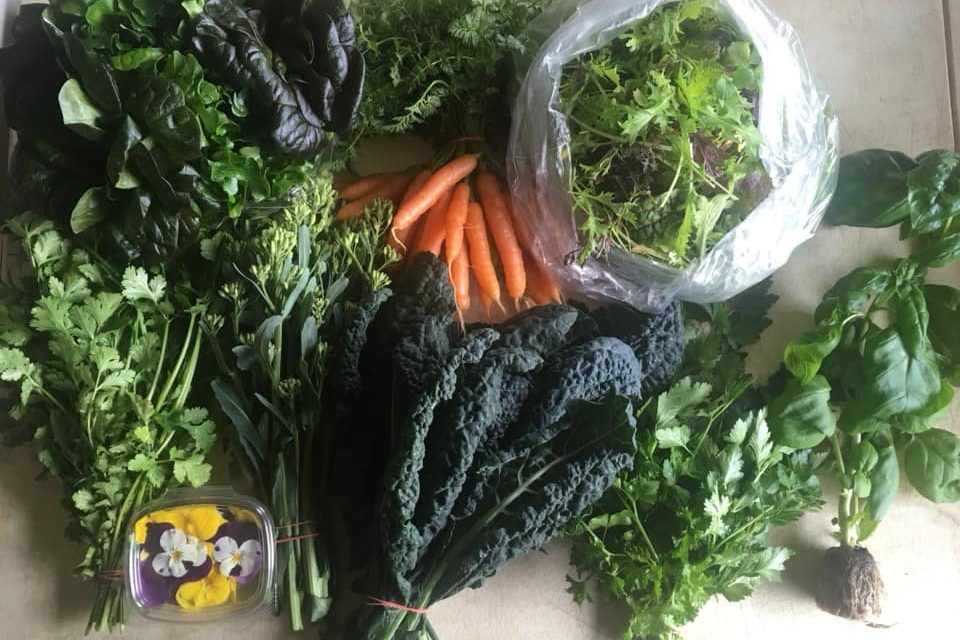 Photo Credit: Karma Farm
by Kerry Flanagan, TasteWise Kids Manager of Community Engagement and Support
Eat Local
This crisis is showing just how essential it is that a region can feed itself and not rely on a global supply chain that is vulnerable to virus, war or other disruptions – support local as much as possible, even during this time of insecurity and chaos.
For more from the Farm point of view, check out this piece from Two Boots Farm.
Maryland's Best provides many resources on how to support local Maryland agriculture including an interactive map to find local farmers markets, online markets, and a handy seasonality guide for produce.
Buy Directly from Farms
There are many wonderful small farms across the country, and region, that can safely provide you healthy food, and are likely struggling to find a way to make it through this crisis. Please consider finding a local farmer to support. To find a local farmer near you visit Local Harvest. Check out those farms that have supported TasteWise Kids through our programming or participation in our annual fundraiser, Farm to Chef.
Join a CSA
A more structured way of buying directly from farms, a CSA provides you with fresh produce on a regular basis, and steady income a farmer can count on. Many local farms are continuing (or even starting) CSAs to help make sure their crops are getting to people during this time. Learn more about CSA options here.
Go to the Farmers Market
If they remain open and if you feel comfortable (we know that's a lot of ifs!), take a social distanced trip to the farmers market, get some fresh air, and show our local farmers that they have your support. The Waverly 32nd Street Farmers Market in Baltimore City is, as of now still running every Saturday (and has plenty of easy, free parking). Bel Air Farmers Market in Harford County is open Saturdays from 7 – 11 am.
Check out all of Maryland's Farmers Markets by county: Maryland Farmers Markets Directory
Give some love to an unloved vegetable or non-perishables
Most of us are now home more than usual, so now is the time to experiment in the kitchen! Grab that vegetable that has always given you pause, dig out jars from the back of your pantry, look up some new recipes, and have some fun. Remember you can make substitutions for many ingredients (tools like this one can help) – get creative!
Take a Virtual Tour of a Farm
Day 2 of our Days of Taste program includes a trip to a local farm, where students get their hands dirty and learn first hand from farmers about agriculture. While we are unable to provide this vital in-person learning currently to our students, we are very excited about the virtual options that are popping up:
Dairy Farm: Virtual Dairy Farm Tours
Local Harford County Three Oaks Farm tours: Read about their story and watch their Facebook Live tours
DIY farming videos from TLV Tree Farm: DIY Farming
Egg Farm: Virtual Egg Farm Tours
This list is just a start and we are sure there are other options for supporting Farms out there in this challenging time. We will be updating this list, if you think something should be added, please email info@tastewisekids.org.