Maker Mystery Box Fundraiser
In lieu of Farm to Chef Maryland, TasteWise Kids is assembling at-home experiences to introduce you to local small businesses and their offerings. Various businesses are generously donating their products, and all of the proceeds will go directly to supporting our programing—empowering kids to make informed, healthy food choices in the Greater Baltimore Area.
Taking care of each other starts with taking care of yourself. Purchase a mystery box for you, your family, a friend, coworker or whoever you think deserves a relaxing night at home.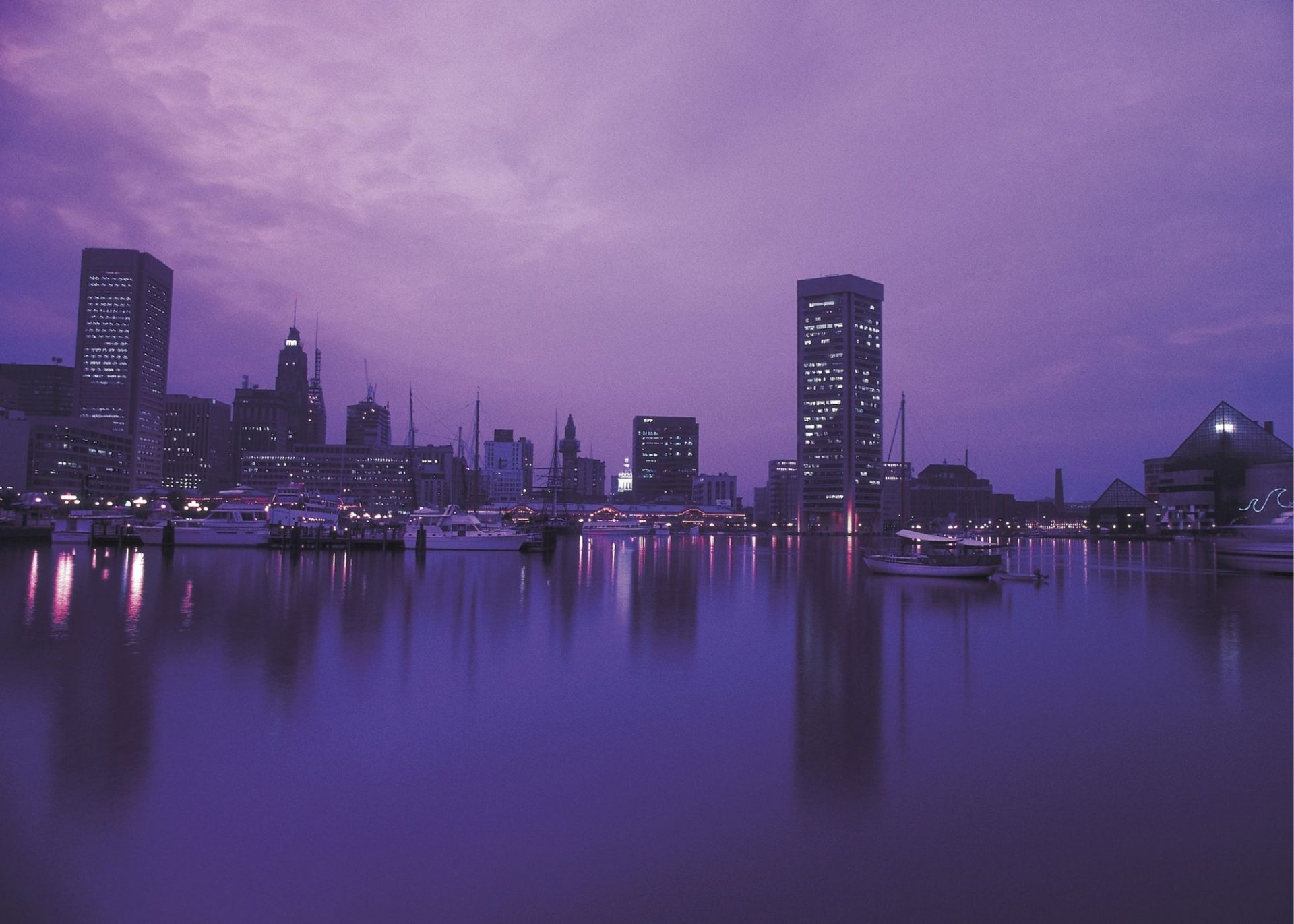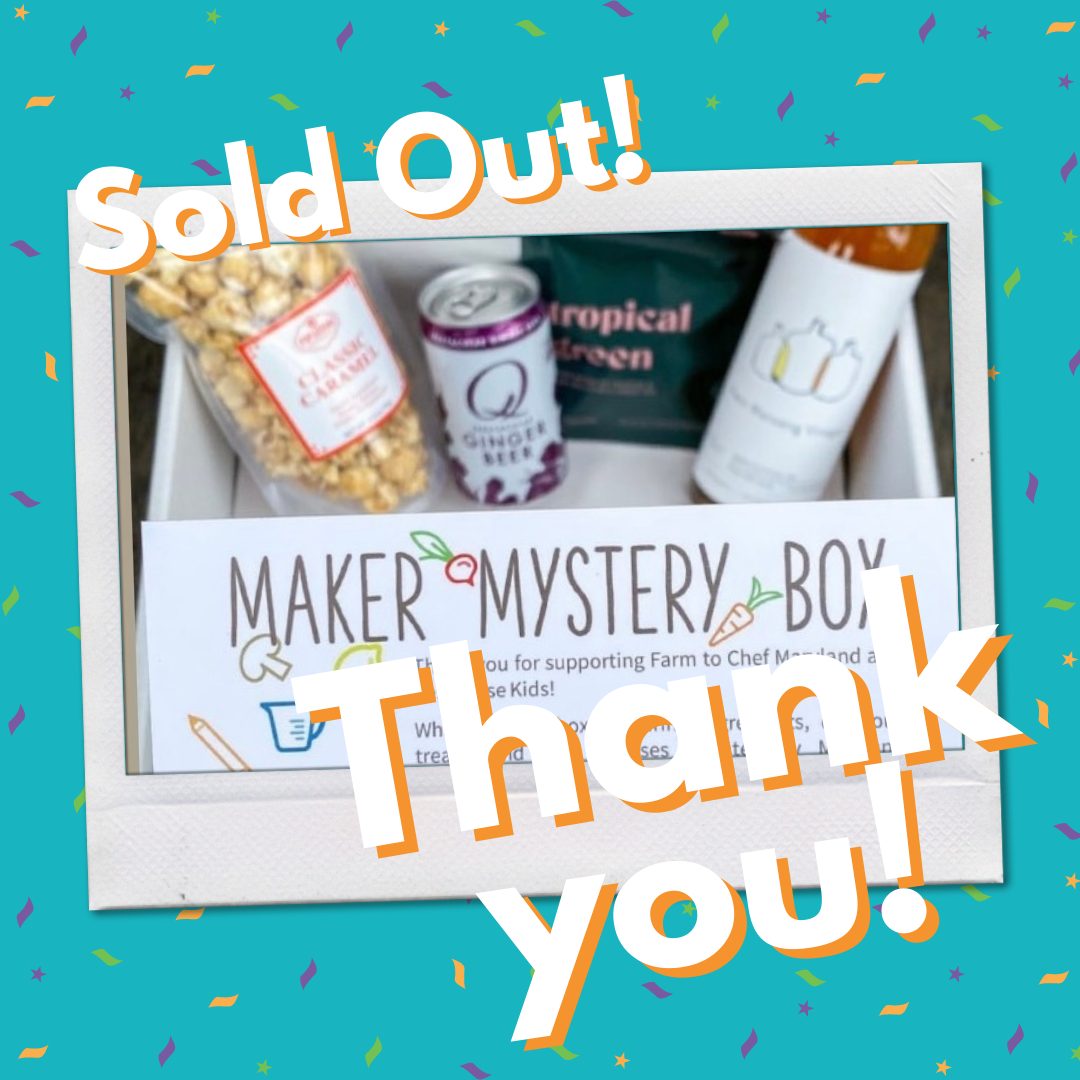 Success!
We're so excited to announce that we've exceeded our fundraising goal for the Great Night In thanks to all our supporters! Last weekend, we completely sold out of our Mystery Maker boxes.
Between box sales and some amazing sponsorships we were able to raise over $20,000 from the Great Night In. We truly can't express how grateful we are to our audience, our local makers and our generous donors for making this event a huge success! Remember, taking care of others starts with taking care of yourself.
If you bought a box from us this year, let us know what you think of it and if you'd like to see other events like this from TWK in the future!
If you missed our box sales but would still like to help support TWK and our food education programs, consider making a donation.
How We're Adjusting
2021 has been a weird year to say the least. We're no longer steeped in the utter shock that was 2020 but we haven't exactly gotten back to "normal." And through it all, our farmers and chefs have worked tirelessly, not only to keep themselves afloat in an increasingly challenging industry, but also continually find ways to give back to their community.
It's around this time of year that we usually start to get excited about our upcoming Farm to Chef event, a fantastic evening of food and beverages prepared by some of the area's most talented chefs.
Last year, we were so impressed by the local culinary masters who stepped up to participate in our first ever virtual F2C. We had so much fun filming and sharing this food competition virtually with all our amazing supporters.
But the truth is, our chefs and farmers need a break. So instead of our typical Farm to Chef Maryland, we're flipping the script! This year, we still want to bring attention to our amazing local farmers and chefs, while also pausing to participate in some much-need self-care.
End 2021 With Something Special
Our goal is to support our programs, our farmers and chefs, and our community as a whole. How are we accomplishing that?
This year we want to help curate the perfect night-in with Maker Mystery Boxes full of locally made goodies.
How to Use Your Mystery Box
For Yourself: That's right! Caring for one another starts with self-care. Treat yourself to a luxurious night-in and let us take care of the rest.
For Your Family: Our Family add-on makes your mystery box into the perfect package for family fun. All the local goodies, plus ideas and activities to help bring your family together!
For a Friend: Gift a Maker Mystery Box to someone you think deserves a stress-free, indulgent night-in.
For a Group: Whether you're celebrating something remotely, or getting together in person, get Maker Mystery Boxes for you whole group so that everyone can partake in a little self-care.
For a Maker: Choose the option to give and get a box--one for you, and one for an amazing local chef or farmer, without whom TWK couldn't accomplish so many of our goals!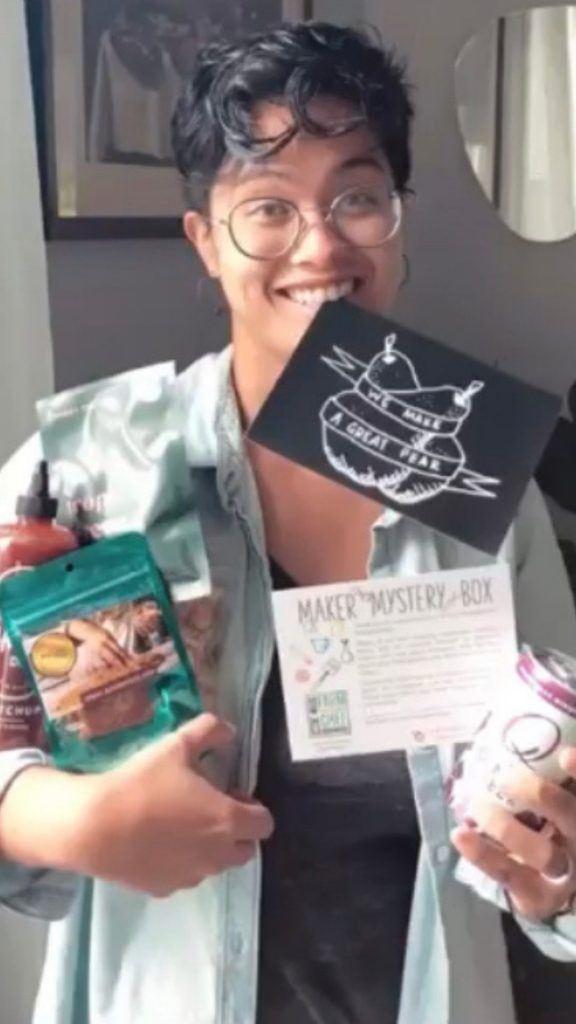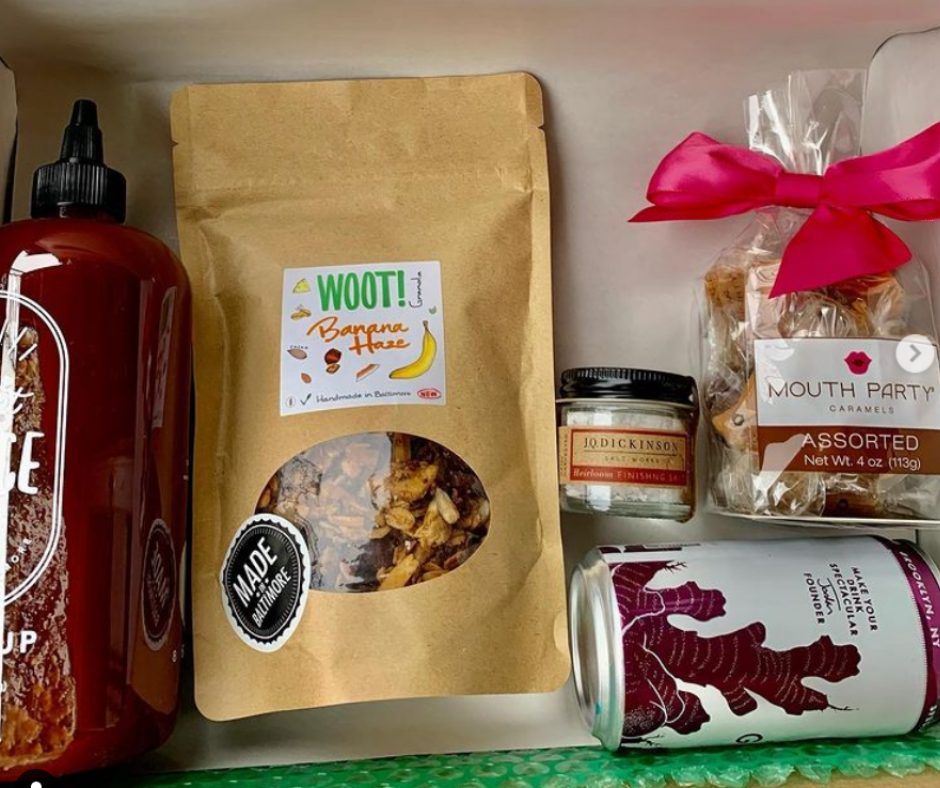 Want to help us make this night of relaxation, self-care and connection to our local makers possible? We have many different options for how you can sponsor or support this event. Visit our sponsorship page to learn more about how you can help make this night truly great!
We're so lucky to have support and contributions from a wide variety of local businesses. More than anything, we want to make the connection between you and them! The Baltimore area is filled with small businesses both in and out of the food industry that need our help now more than ever.
Though every Maker Mystery Box is unique, you can head on over to our 2021 Participants page to get to know the contributors to this year's events.
You'll find info about each of the maker's from your box's goodies, and if you fall in love with one (or all) of the products, we encourage you to support your maker in other ways!
Follow them on social media to spread the word
Purchase their products to help grow their business
Write them a review on Google so others know how great they are
Share your feedback with TWK so we can rave about them too!
To visit a maker directly from this page, just click on their logo below to be brought to their website. Happy tasting!