Add a Days of Taste Salad to your Thanksgiving table!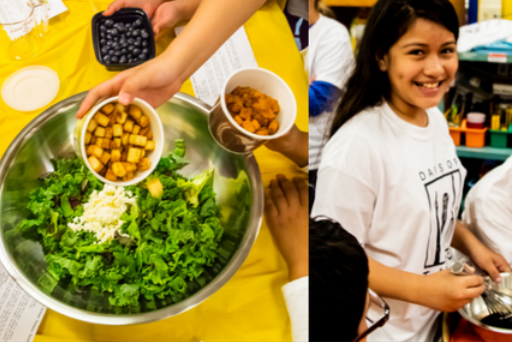 by Kerry Flanagan, Manager of Community and Engagement, TasteWise Kids
Are you looking for a Thanksgiving side to add to your table?
We think this light and seasonal salad, created by chefs Mile Montezuma and Genesis Flores of
Alma Cocina Latina
for John Rurah Elementary, generously supported by
Pompeian Olive Oil
as part of our Days of Taste program this past Fall semester, is the perfect counterpoint to the rich dishes that typically make up a Thanksgiving feast.
If you are cooking with kids, we find that they love to measure, pour and whisk to create the dressing. Also, most kids love dipping, and dipping greens can be just as fun as dipping chips – encourage kids to dip individual leaves into the dressing to taste and adjust to personal preference, so they get to know their own taste buds better!
We hope you enjoy this dish with family and friends as you give thanks for good taste this Thanksgiving – we wish you a very happy holiday from Tastewise Kids and Alma Cocina Latina!
Photo Credit: Barry Berman, The Baltimore Photography Club