TasteWise Kids operates with a single goal in mind: to offer children fun ways to learn about food and inspire a lifetime of positive, healthy eating habits. We empower children of all ages to think about food in new ways, to explore their own sense of taste and to realize that flavorful, nutritious food and good health go together – naturally. As part of this work, students also benefit from seeing first-hand where food comes from and learning about the importance of agriculture and respecting their environment.
As Julia Child, the original Days of Taste® spokesperson stated over 25 years ago, "In this age of fast and frozen foods, we want to teach school children about real food – where it is grown and how it is produced – so that they can develop an understanding and appreciation of how good fresh food is supposed to taste."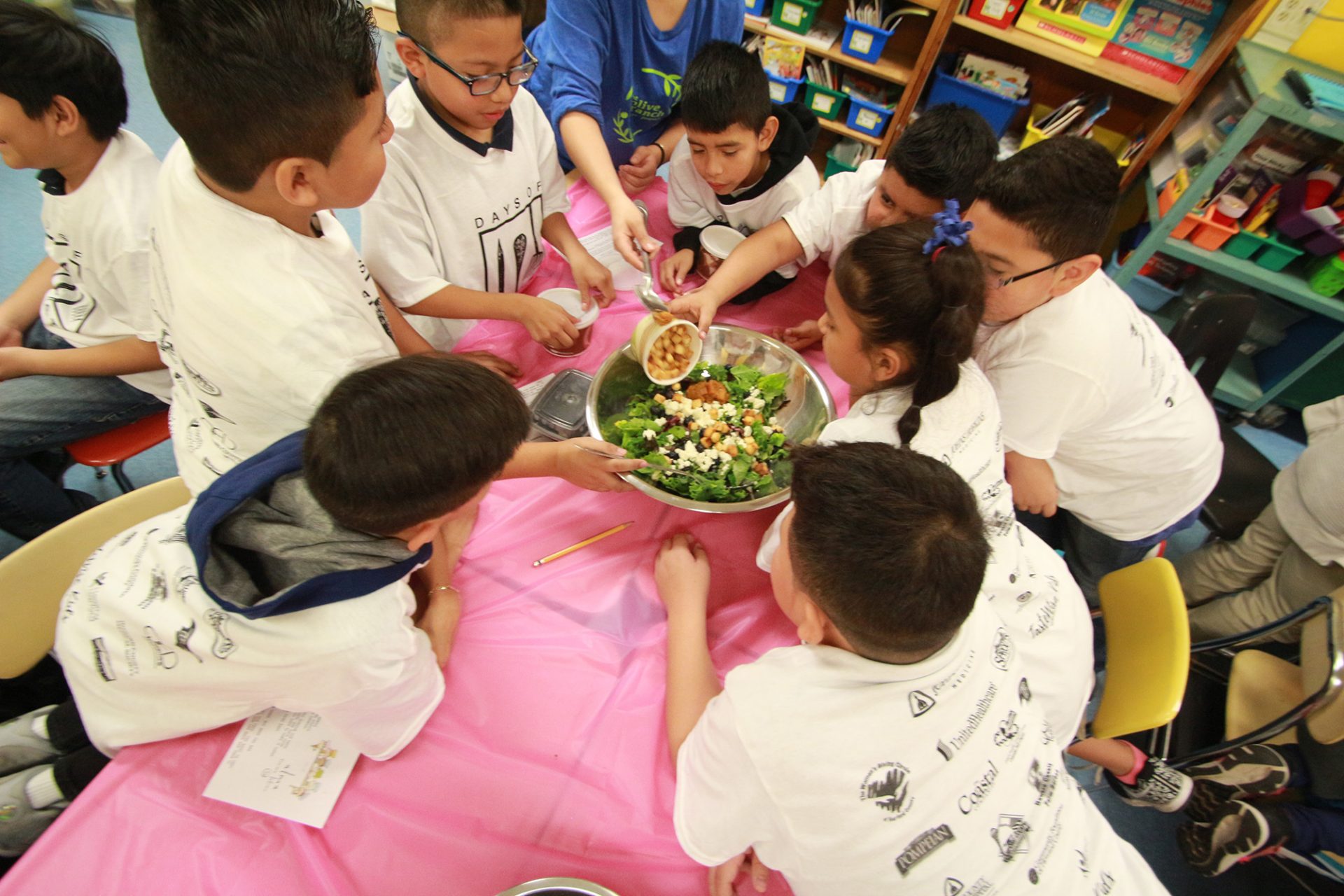 Our Mission
TasteWise Kids inspires kids to explore and experience the world of food and its sources.
Our Organization
TasteWise Kids is a non-profit organization with a 501c3 status based in Baltimore. TasteWise Kids was established in December 2015. We see it as our job to inspire our next generation to make educated choices about the foods they eat today, so that they develop positive, healthy eating habits tomorrow.
We work with local chefs, farmers, and other food professionals to teach our students about where their food comes from, help them to explore their own sense of taste, and to discover the value of fresh food from multiple perspectives:
Health and nutrition
Agriculture and environmental stewardship
Career Awareness/Development
Culinary and preparing food to individual taste preference
Social aspects of eating with friends and family
In the 2020-2021 school year we served about 4,000 children in Baltimore City, Baltimore County, Howard County, and Harford County.
To learn more about us, visit our Why TasteWise Kids? Section.
Our Programs
We use hands-on experiences to teach kids about the world of food — where it comes from, why it tastes the way it does, and how to prepare it — which helps them discover what they like and inspires a lifetime of healthy eating habits.
We make this journey of discovery exciting, we keep it simple, and we follow three fundamental principles to make it happen:
Use your hands: We believe students learn best when they can explore actively and reach their own conclusions. Therefore, our programs are designed to teach new concepts and ideas through hands-on activities.
Ask an expert: We believe there is no substitute for experts in their fields. That is why we invite local chefs, farmers, and other food professionals to help lead our programs.
Have fun: We believe that students learn the most when they're enjoying themselves. That's why we take a "food enthusiast's" approach to our programs, focusing on all the senses, the excitement of trying new foods, and the pleasures of eating with family and friends.
We have three current programming areas:
Days of Taste program: 4th graders learn about the elements of taste and the journey of food from farm to table.
TWKatHome:  free, fun easy to use activities and resources for families. These activities are theme-based and are adaptable to multiple ages and abilities.
Community Programs: Our Chef Story Times, Ask the Experts and other interactive educational programs help kids get excited about food. We also create and host fun, hands-on learning on a single topic related to food and healthy eating for after school programs, reaction centers, and other community based groups/organizations.
Our DEI Commitment
At TasteWise Kids, we are committed to embracing and cultivating an environment where diversity, equity and inclusion are prioritized across the communities that we reach through our programming and partnerships. Our commitment is reflected in our leadership and how we operate and communicate as an organization.
Our Impact
We are teaching kids about food — good food, real food, nutritious food — ultimately to spark new ideas and attitudes around their own eating habits. And we are seeing positive changes in our students and families.
Recent outcome data from our programming:
"We all eat differently. The program changed our entire family's life."
Parent
"Did you know you can make your own salad dressing?"
Days of Taste Student
"I didn't know I liked celery!"
Workshop Participant
For a shareable overview of our mission, programming and impact, please