Chefs Dave & Tonya Thomas Join Story Time
This month's Chef Story Time event featured not one but two talented Baltimore area Chefs--Dave & Tonya Thomas! A unique virtual opportunity for kids and their families to connect with a local chef, enjoy a read-aloud and learn a special recipe from the guest. Every event is free and recorded for those who cannot attend live.
Watch the Recording Now!
Thanks so much Chefs Dave & Tonya Thomas for joining us for this Chef Story Time. This event was originally hosted in February of 2022 and was recorded for you to enjoy whenever you want a little story time with a special guest. Our event with Chefs Thomas even featured a special guest that made this Chef Story Time even more special.
We hope you enjoy and happy tasting!
You can learn more about Chefs Dave & Tonya, find information on the story we read and where to buy or access the book, and even get a printable version of the recipe they shared with everyone below!
Sponsored Spotlight Ingredient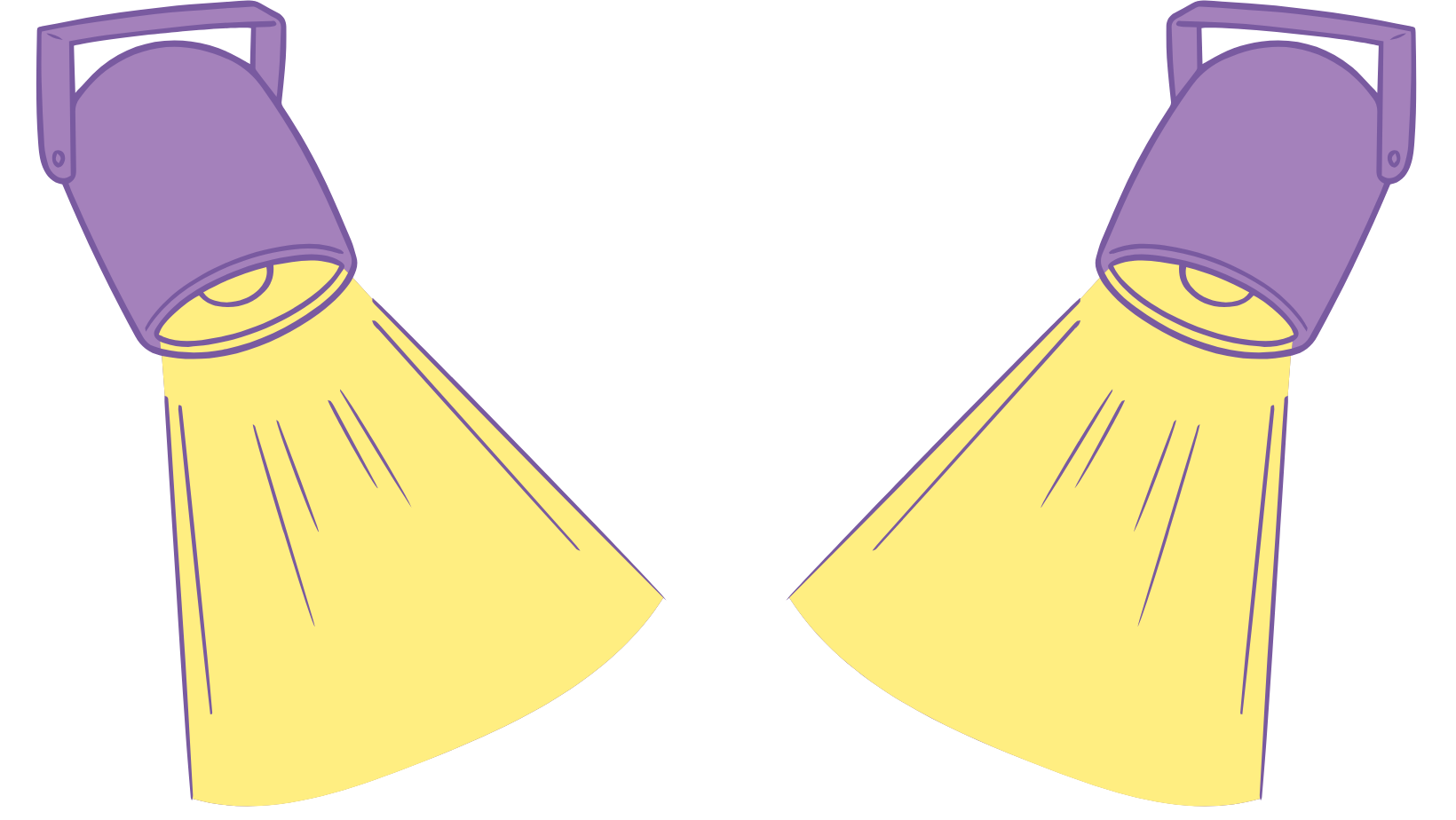 You can't have mac n cheese without cheese of course! This month's featured ingredient is just one of the cheeses included in our recipe: Monterey Jack!
Monterey Jack was originally made by friars in Monterey, California during the 18th century.
It has now become an American classic cheese and has many variations that include spices and marbling with other cheeses. This semi soft cheese has a mild flavor and is often used for melting, whether that's in a creamy sauce or tucked inside a California style burrito.
About Chefs Dave & Tonya Thomas
For the Thomases, there's nothing quite like sharing a beautiful meal around a table or at a party, conversation buzzing, silverware clinking, and smiles all around. This is what inspired them to launch their most recent venture, H3irloom Food Group, a multidimensional catering group with a focus on intimate gatherings and events.
Chef David has cooked and run Herb & Soul, Ida B's, has won the Chopped cooking show, and is deeply committed to sharing the food of his African American, Blackfoot Indian, and Southern heritage with the world. Pastry Chef Tonya has experience in the catering industry and a creativity that has always drawn people to her cooking. Together this dynamic duo is bringing a focus on history and sustainability to small events throughout Maryland.
You can follow them on Instagram or Facebook to learn about upcoming food experiences or just catch a glimpse of the delicious dishes they've been serving.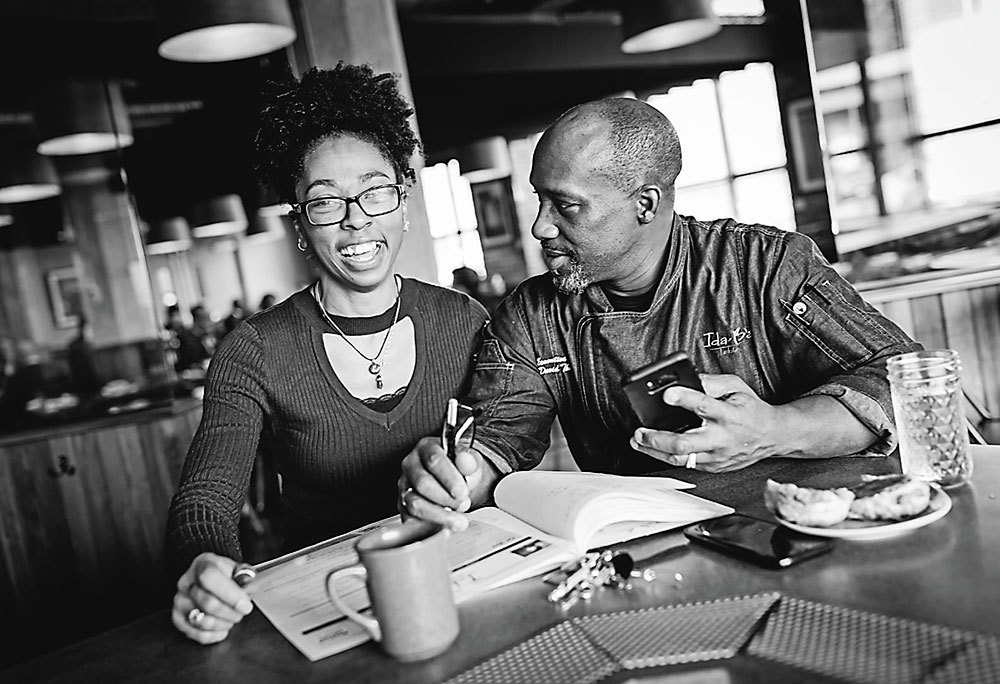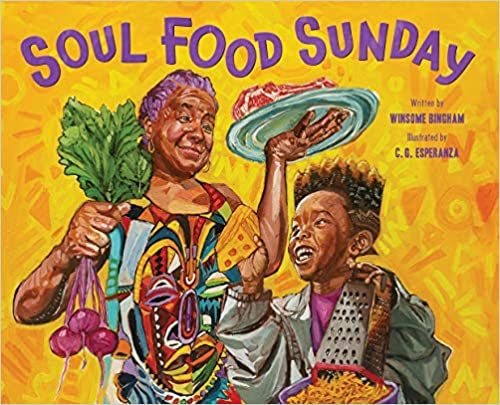 About the Book
At Granny's, Sunday isn't Sunday without a big family gathering over a lovingly prepared meal. Old enough now, our narrator is finally invited to help cook the dishes for the first time: He joins Granny in grating the cheese, cleaning the greens, and priming the meat for Roscoe Ray's grill. But just when Granny says they're finished, her grandson makes his own contribution, sweetening this Sunday gathering—and the many more to come.
Evocatively written and vividly illustrated, this mouthwatering story is a warm celebration of tradition and coming together at a table filled with love and delicious food.
Prompts for Discussion
Whether you're preparing to read this book with your family or class, planning to the cook the recipe, or just want to have a good discussion about food, we have some prompts to help you get started.
What is one occasion your family likes to cook a big meal for? What do they make?
Is there a particular person in your family that does a lot of the cooking? What do they make that you love?
If you could contribute one dish to your family meal, what would you make?
Can you think of some ways you could help out in the kitchen?
Make the Recipe
We always love when our guests share an awesome recipe to try at home--especially when they help introduce us to new ingredients and connect with different types of cuisine.
This classic baked Mac n Cheese recipe comes directly from the Soul Food Sunday book. Chefs Dave & Tonya love this recipe because its so easy to adapt to your tastes and experiment with. Try using different cheeses or adding spices to fit your tastebuds.
Check Out These Additional Activities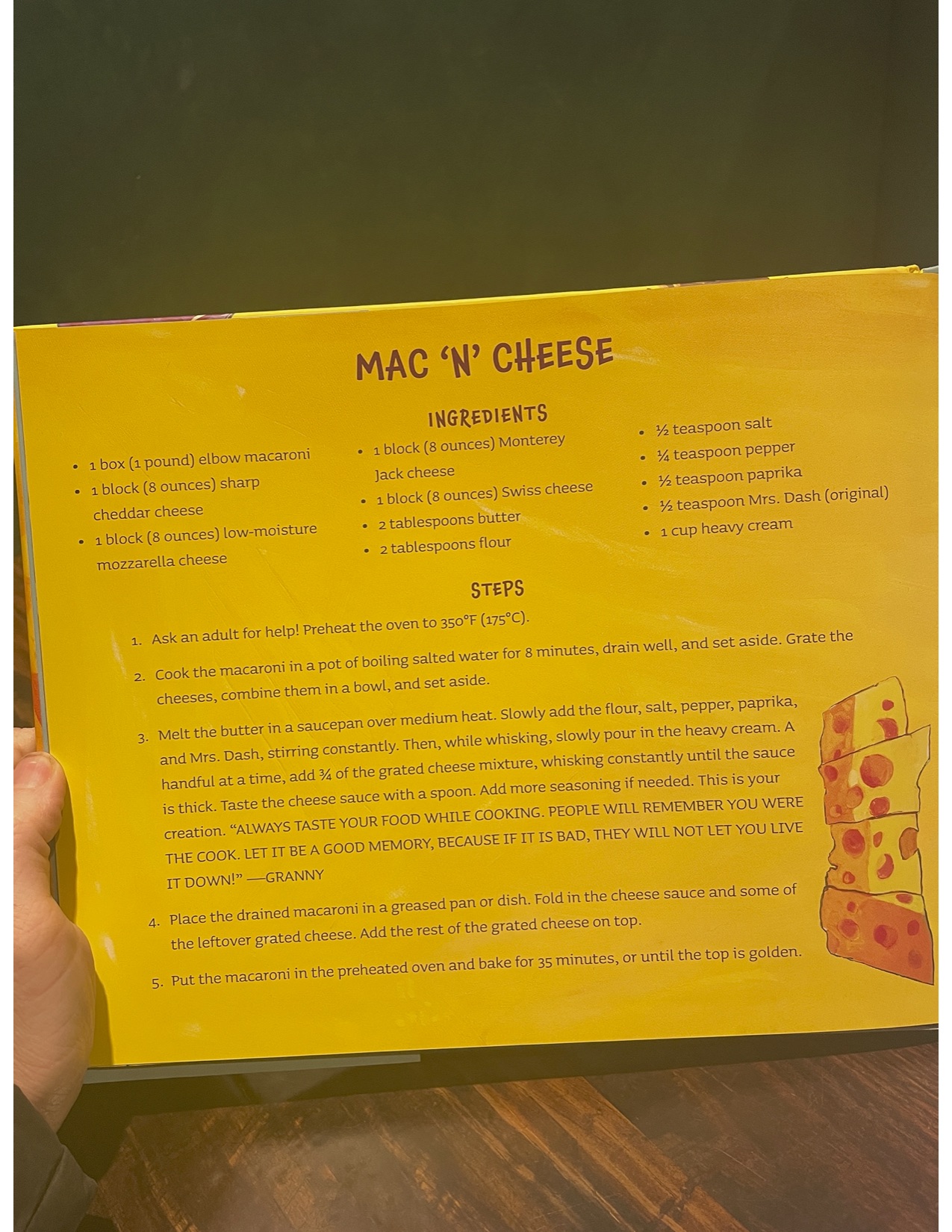 Ingredients:
1 pound elbow macaroni
8 oz sharp cheddar
8 oz low-moisture mozzarella
8 oz Monterey Jack cheese
8 oz Swiss cheese
2 tbs butter
2 tbs flour
1/4 tsp salt
1/4 tsp pepper
1/2 tsp paprika
1/2 tsp Mrs. Dash
1 cup heavy cream
Directions:
Preheat the oven to 350 degrees.
Cook the pasta in a pot of boiling, salted water for about 8 minutes before draining and setting aside. While the pasta cooks, grate the cheeses into a large bowl and set aside.
Melt butter in a saucepan over medium heat. Add the flour and spices, stirring constantly and slowly adding the cream. Once the cream and flour are well mixed, slowly add 3/4 of the cheeses, continuing to stir. Adjust for your tastebuds!
Mix the macaroni and sauce together in a baking dish and top with the remaining cheese. Bake for 35 minutes until the top is golden brown.