Family Tip: Conversations around the Table
Photo by Elly Fairytale from Pexels
Date: Friday, May 8, 2020
Our #TWKFamilyFridays series is where we hope to provide you with resources to both learn a little more about the world of food and its sources, and connect with one another in the process. 
Check out our entire series of family tips here. 
Here's a tip that will hopefully spark conversation over food around your table!
At TasteWise Kids, we know how hard it can be to have a meaningful conversation with kids over a meal. Especially these days when we often have spent ALL day in the same space and so know exactly what they have been up to, what they have learned, and how many times they fought with their siblings over the best seat on the couch! 
So this week, we are giving you one of our favorite Life Hacks – TWK Conversation Starters. This sheet is something we developed that goes how with our take-home salad kits that we send home to families after coming our Days of Taste program – and we plan to send home with our new take-home salad kits that are going home to families in need. Want to learn more and help us get more of them into the hands of families in our community? – see the bottom of this post!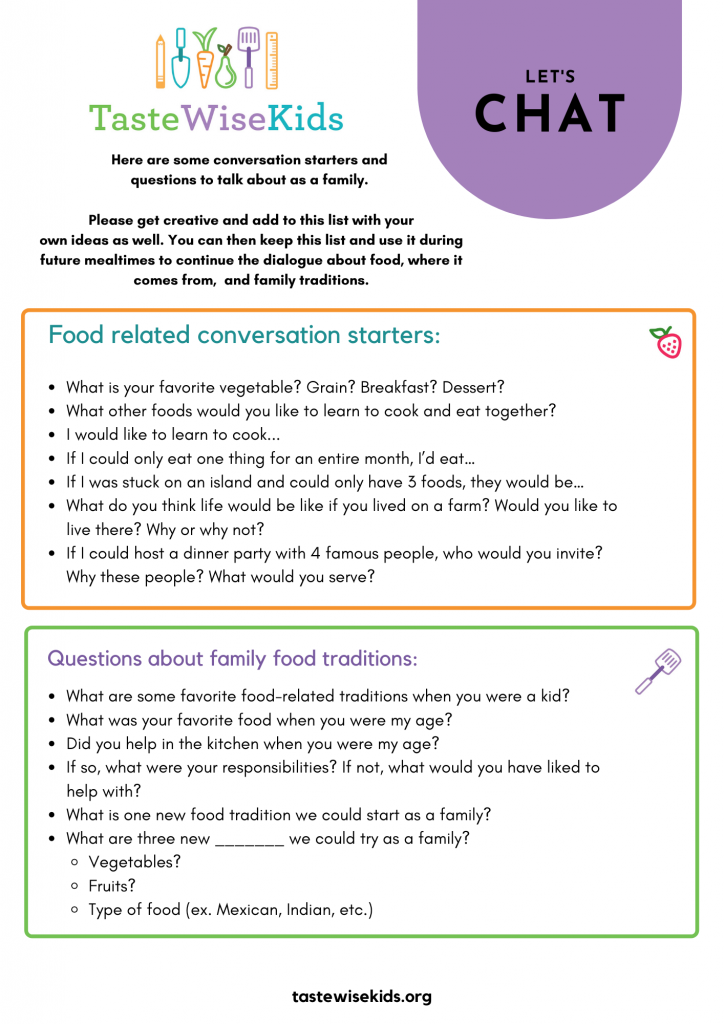 How you use these conversation starters is up to you but here's a few ideas to get you started:
Pick one before you sit down to eat to use to start a conversation over your meal

Let one kid pick a conversation starter as you prepare the meal and then have him/her be the "MC"  for the conversation over dinner. (not only does it change up who is in charge of the conversation, it will help kids learn how to lead a conversation and include everyone)

Ask family members or dear friends who can't join you over a special meal to share their responses to these questions beforehand via email or text and then "include" their responses in your conversation at the table. 

No food is needed – use these conversation starters on your next family virtual gathering to have something new to talk about. 
Remember, these conversation starters are intended to spark conversation – if everyone doesn't answer that is ok – just use them as a jumping off point to have some good conversation with your loved ones. 
May also happens to be National Salad month – which we like to celebrate here at TasteWise Kids! We believe that salad can be so much more than lettuce, so this month #TWKatHome will focus on our favorite greens and all of the different ways they can be used.
In honor of National Salad Month we are raising funds to supply salad kits to families experiencing food insecurity. If you have $15 to donate a fresh, healthy salad kit to a family in need, please give here.