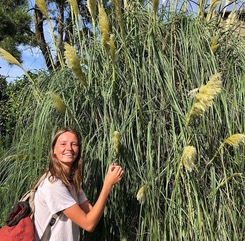 With the new year, we welcomed lots of exciting changes at TWK, including a new intern! We're always thrilled to have the extra help and to get to know so many amazing people along the way. Though we only have her with us for a short while, we wanted to introduce you all to Jocelyn Vick Maeer. She comes to TWK all the way from the UK and has a background in vegetable growing and community garden spaces. You can read her official bio here, and enjoy her answers to some of our favorite food related questions below:
If you could have one meal at a local restaurant, what and where would it be?
In London, I would go to Copita, a tapas place in Soho that spills out onto a quiet street, and serves my favorite Spanish beer, Alhambra. The sweet potato patatas bravas come with alioli and have peanuts in the spicy, smoky tomato sauce. They also have great olives, tortillas and mushroom croquetas. I always order too much and eat it all. 
Here in the US I've really been enjoying the Mexican and South American food— it's a big step up from what's available in the UK, unsurprisingly. The tacos at El Sol in DC were my favorite. In Baltimore I've enjoyed Clavel and Alma Cocina Latina.
If you could travel to any city in the world for a food trip, where would you go?
I would probably go to Delhi. I love the street food, all the different breads, and sharing plates with all kinds of vegetables and pulses. Or someplace with loads of fruit I've never eaten before. I'm not sure where that would be.
What is a favorite food related memory from your childhood?
When I was young, we usually spent a few weeks of the summer in a small town in northern Portugal. There was a cafe-restaurant right next to the beach, where we went for buttery toast and hot chocolate on cold, misty days, or ice cream everyday! (Once, my parents lost me on the beach, and looked everywhere until they eventually found me chatting with the man at the ice cream stall). One night each holiday we went for dinner at this restaurant, the only time we stayed at the beach after it got dark. We ate Arroz de Marisco, a massive pot of brothy, orangery-red seafood stew, with the rice cooked inside. We used all kinds of implements to open the mussels, clams and crab legs—it was delicious, very messy and a lot of fun. Then we walked home on a track between the corn fields, under moonlight, finding glowworms in the verges.
What are a few things that are always in your fridge or pantry?
In the pantry I'll always have beans and pulses—black eye beans, chickpeas, black beans and lentils are my favorites. Lots of spices and herbs, like cumin, coriander, fennel, black mustard, turmeric, bay, paprika, sumac. When I go on holiday nowadays, we bring along a box filled with tiny pots of these spices. I also like to have olive oil, sesame oil, soy sauce and a running selection of different hot sauces. Lemons, limes, onions, garlic and vinegars are also staples. In the fridge I like to have yogurt and cheese (cheddar and parmesan!)— and of course a good selection of vegetables.