#TWKatHome Activity: Careers, Restaurant Manager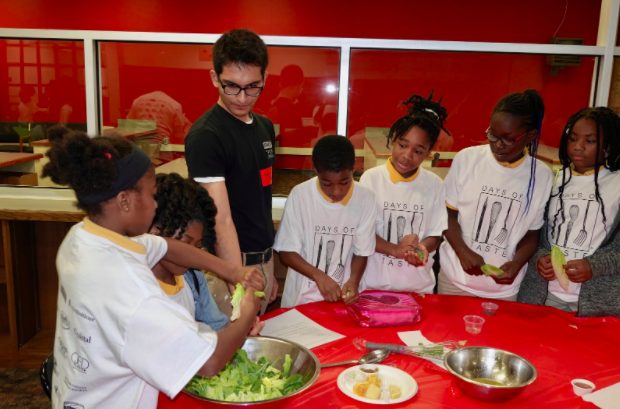 Welcome to Summer TWKatHome! Our summer focus is Food Careers. Over the coming weeks you will get to interact with many amazing local food professionals – from farmers to food truck owners to recipe developers.
In this week of Food Careers we are taking a look at the restaurant manager! We explore Aazam Yaqoob's career as the manager of Atwater's.  
TasteWise Kids – are you hungry for some learning?
Get Social (Change to "Connect with Us"?)
Do you know of any food businesses opening near you? Share a local food business that's opening their doors this summer to our social media! Facebook (@TasteWiseKids) or Instagram (@tastewise_kids) and use the hashtags #TWKatHome and #myTWKsalad, or email info@tastewisekids.org.
Let's explore what it looks like to be a Manager of a food business by getting to know Aazam!
Hi there! My name is Aazam Yaqoob and I am the Assistant Manager at Atwater's in Belvedere Square. Atwater's is a Baltimore food purveyor serving healthy breakfast and lunch at 5 locations and over a dozen farmer's markets across the metropolitan area, with an emphasis on supporting regional farmers and suppliers. While I'm new to restaurant management, I have learned a lot so far in my time at Atwater's and look forward to future endeavors in the food industry. I'm also a Days of Taste alumni who did the program as a Baltimore City public school kid!
How did you get started in the food business?
My first few jobs were working for food festivals in Baltimore, and serving ice cream at a local restaurant. I was drawn to the energy and hustle n' bustle of the restaurant industry and was an avid baker/eater. I started at Atwater's in 2016 as a Food Runner. A food runner takes orders from the kitchen to the table and working this position is a great way to learn how a restaurant operates.
As a manager of Atwater's, what does a "typical" day look like for you, start to finish?
I typically start the day at 6:30 or 7 and open the shop with a few staff members. My co-workers dial-in espresso, brew the first couple pots of coffee, and prep ingredients in the kitchen. I evaluate inventory and place orders for the next day. When we open, I oversee service in the market and the kitchen, interspersed with office work including writing schedules, HR paperwork, and planning. I try and devote all of my attention to service during our busiest hours (lunchtime) and mainly help out where needed, troubleshoot issues with orders, and reposition staff to match the pace.
What's the biggest lesson you've learned on the job?
Speaking to people and confidence would be the two most valuable lessons I've learned.
Do you have a typical weekend? How do you like to relax when not on the job?
My "weekend" is Tuesday & Wednesday, which makes Monday my "Friday." Having an unconventional schedule comes with it's pros and cons. It's nice and quiet in the city during my weekend! I'm into film and video as a hobby, and sometimes help out friends with movie projects. I also play highly competitive Monopoly games.
Is there a part of the job that feels the most challenging? Is there a part of the job that feels the most rewarding?
Managing staff is the most challenging and most rewarding! A successful restaurant is made up of an army of highly efficient people- building that team from recruitment, to training, and professional development is the hardest but most important part of the operation.
What changes have occurred in your role as manager since the COVID-19 pandemic started?
The situation is changing constantly. Since restaurants have such high overhead costs during normal operation, scaling the business to necessary levels of production can be really difficult. Teamwork amongst the managers, cooks, and service staff has made it possible to stay operating during this time.
Do you have a favorite recipe or meal to cook at home?
Right now, I've been making a lot of salads and I'm looking forward to tomato season. I also love fish dishes.
What goals do you have as manager for Atwater's looking forward? What goals do you have for yourself in your food career
In the short term, I'm hoping the company can come out of the other side of this crisis stronger- maybe leaner, but strong. Personally, I'm passionate about local sourcing and giving rise to more sustainable food systems. I also think the food industry has a long way to go in terms of improving the employee experience- from benefits to growth opportunities, and while I'm thankful to work for a company that prioritizes that agenda, there is more that can be done elsewhere. I'm not sure how that might take shape in the future, but look forward to figuring it out!
Do you have any advice for someone that is interested in managing a food business?
Be curious! My love of learning new skills has fueled my career growth, and I've seen many others benefit from a skill-building curiosity. No task is too big or too small.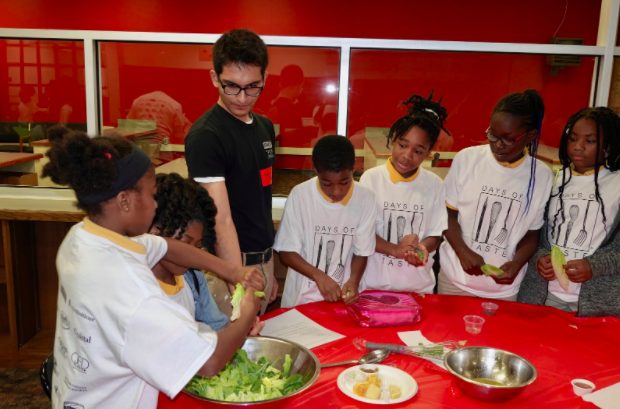 Activity: How to Draw Vegetables
Download the full activity here: How-to-Draw Vegetables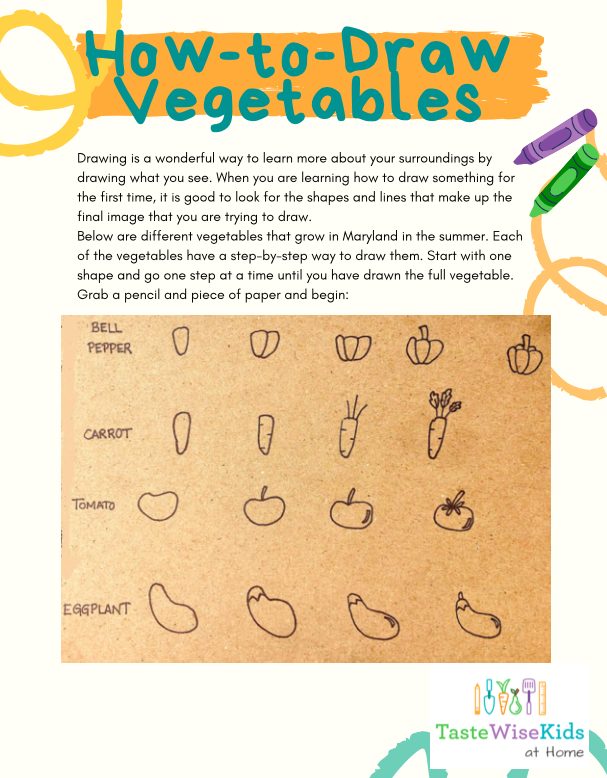 If you would like to explore another how-to-draw tutorial here's a link to draw vegetables in the ground: https://artprojectsforkids.org/wp-content/uploads/2020/05/How-to-Draw-Vegetables.pdf
If Produce Could Talk: Facts all Bell Peppers
Bell peppers are actually considered fruit, not vegetables because of their seeds and  they come from a flowering plant

The bell pepper technically is a part of the berry family 

Bell peppers are filled with vitamin A and vitamin C. The more ripe the pepper, the more vitamins the pepper contains

Red, yellow and orange bell peppers are green bell peppers that have been given more time to ripen which also gives them time to provide a sweeter taste 

Bell peppers are harvested from their plant all year around
Don't forget to share with us!
We would love to see your final drawings, send us a picture of the final product on Facebook (@TasteWiseKids) or Instagram (@tastewise_kids)! You can also email info@tastewisekids.org.