#TWKatHome Activity: Salad Science
Tuesday, May 19, 2020
This week we will continue to explore salad as part of National Salad Month – so get ready to be creative, have fun, and learn a few new things.  If you missed the past few weeks, check out our entire #TWKatHome series here.
Connect with Us
This week we have Chef John Shields, owner of Gertude's Chesapeake Kitchen, as our expert.  He wants to know what ingredients you use to make your salad this week. 
Post or send us your salad ingredients for Chef John, a picture of your salad or your cabbage activity on Facebook (@TasteWiseKids) or Instagram (@tastewise_kids) and use the hashtags #TWKatHome and #myTWKsalad, or email info@tastewisekids.org.
This week's theme: Salad Science
May is National Salad month – which we celebrate here at TasteWise Kids! This is our 2nd week of this adventure. This week we are going to explore science with salad – including learning how plants grow in space! 
Want more on salads? Stay tuned throughout the month (sign up for emails directly here) as well as on Instagram and Facebook as we share a fun variety of salad tips, recipes and resources. 
Ok TasteWise Kids – are you hungry for some learning?
Learn from an Expert: Chef John Shields of Gertrude's Chesapeake Kitchen on Building a Farmers Market Salad
Chef John Shields is co-owner and proprietor of Gertrude's Chesapeake Kitchen at the Baltimore Museum of Art in Baltimore City. In addition to being a long-time partner of ours including as an amazing Chef with our Days of Taste program for over 15 years, John has written a number of cookbooks and even had his own TV show! 
For this week, Chef John has created a special video just for #TWKatHome – he shows us how easy it is to make a simple, local salad using ingredients that grow near us. And keeping with our science theme, he teaches us about emulsification and the importance of balancing flavors. 
If you want to make Chef John's salad, get it here – Farmer's Market Salad Recipe: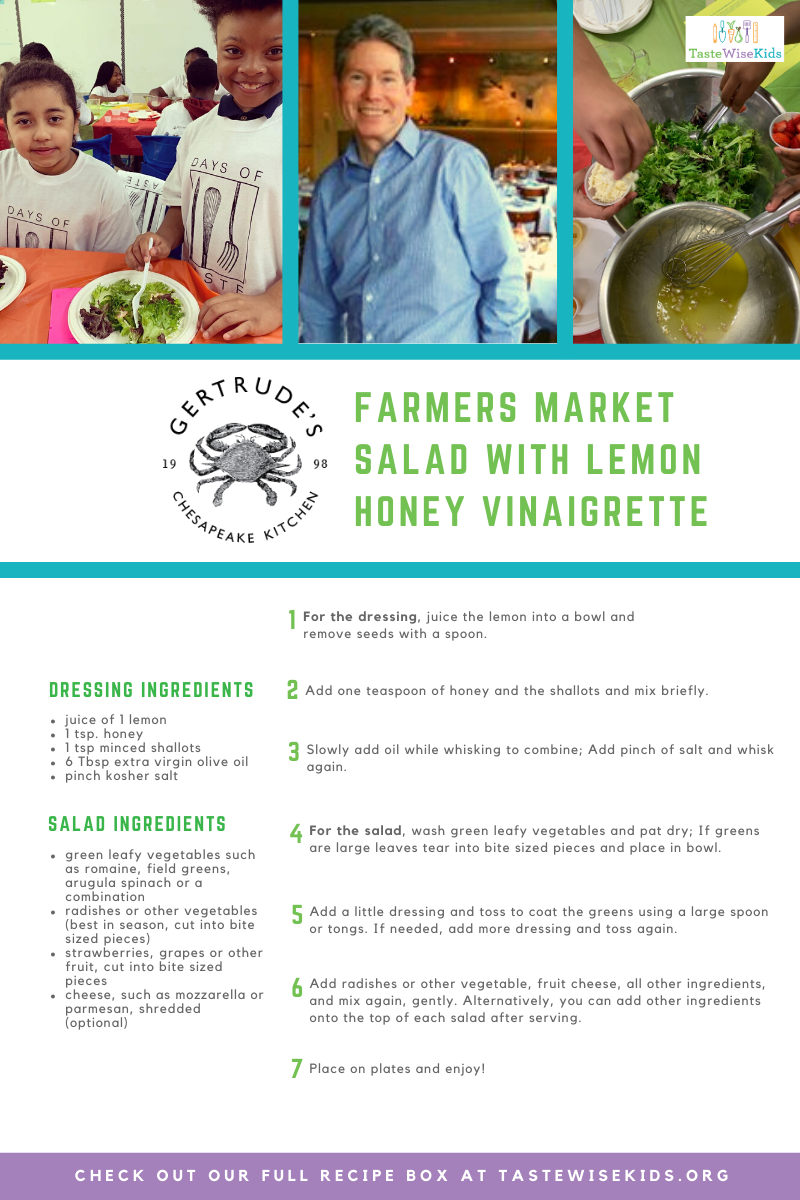 If you want to get some local ingredients for your next salad, the Baltimore's 32nd Street Farmers Market is open EVERY Saturday from 7am to noon, year round. Many TasteWise Kids farmers and partners are there every week. Now is a great time to support them if you are able to make a visit. 
Now it is time for you to put your imagination and science skills to work!
Activity: Cabbage Experiment
Hope you have your scientist brain ready to use. Chef Kiah Gibian, chef and owner of Wilde Thyme Food truck, is back with us to share a fun and easy experiment you can do at home with red cabbage.  This experiment – Red Cabbage Chemistry – shows how the basics of chemistry relates to cooking. 
(If you are not able to do this activity at home, that's OK! You can check out this video which does a similar experiment – best for kids grade 3 and up). 
And we have a few other fun ways to learn how science relates to salads and food in the Extended Learning Section below so pick one of those activities to focus your learning on this week. 
Materials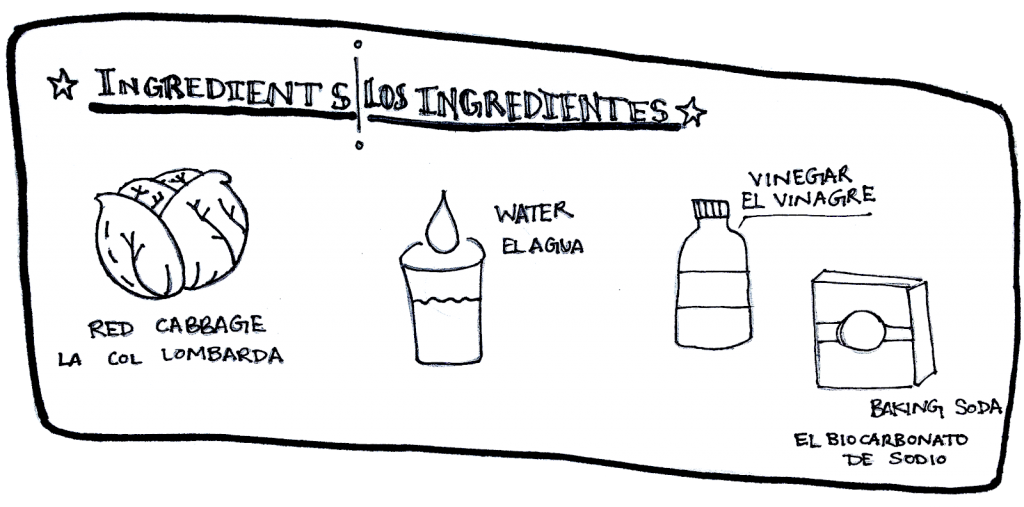 Equipment
Blender or Grater 

Three cups 

Measuring spoons (optional) 

Strainer (optional) 

White paper (optional) 
Instructions
Before reading through the rest of the instructions, can you make a guess based on the ingredients about what will happen to the cabbage? 
Fill the blender ¾ of the way full with water, and ¼ of the way full with red cabbage leaves. Blend. 

If you are using a grater, grate ½ of the red cabbage. With help from an adult, poor water over the cabbage and let cool for twenty minutes.




Place your three cups or bowls in front of you and pour your cabbage mixture evenly into the three cups. If using a strainer pour your cabbage mixture through the strainer into the

three cups. 
*Save some of the mixture if you would like to do additional experimentation. 

Before moving on, take note of the color.

One of the glasses with your cabbage mixture will be your constant, or the cup that doesn't change. 

Take one of the glasses of cabbage water and add vinegar. Stir. 

Take the final glass of cabbage water and add baking soda. Stir. 

What do you see? Use the bonus activities to explore more.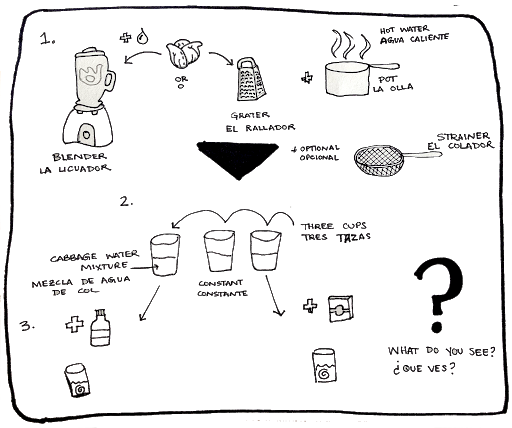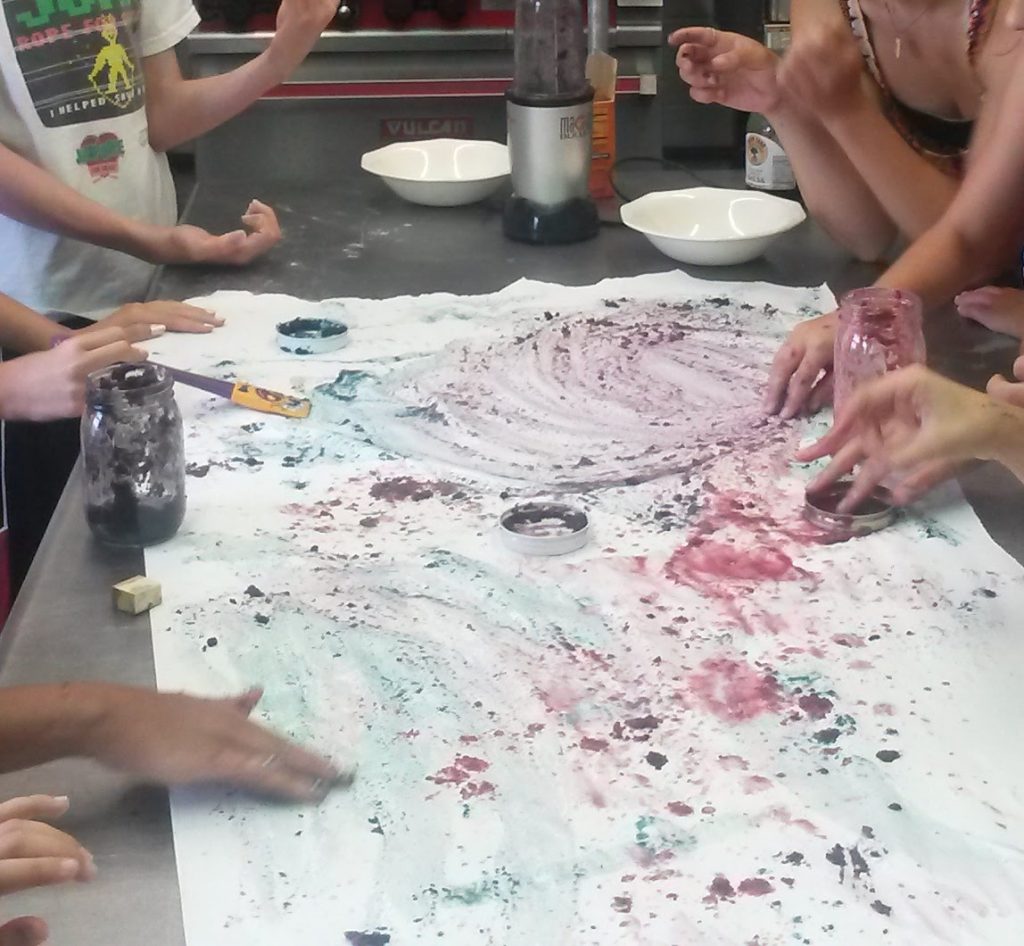 Debrief/Key Points
We can use red cabbage juice as a natural pH indicator.

Red cabbage juice turns pink or red in acids. 

Red cabbage juice turns blue to yellow-green in bases.

With this activity we can see there are similarities between following a recipe and following a scientific experiment, providing overlap between two seemingly different things.
Bonus Activities
If you have space to get messy (maybe outside!), take the final product and use your finger to brush them onto a blank piece of paper. 

If you saved some of the mixture, or using the original constant, add and experiment with other ingredients in your kitchen. Do other ingredients change the color? Does anything else change the mixture in the same way as vinegar (an acid) or baking soda (a base)? (hint: try lemon juice!) 

With the remaining cabbage that you didn't use for your experiment, make some cabbage slaw! Here's a quick recipe: 

Ingredients: Cabbage, two carrots, one apple, parsley or cilantro or your favorite herb, apple cider vinegar, oil, honey, and salt.

Equipment: Grater, bowl, spoon, scissors, measuring cups and measuring spoons. 

Grate the rest of the cabbage into a bowl. 

Grate the two carrots into a bowl. 

Grate the apple into the bowl.

With scissors, snip your herb bunch into small pieces and add to the bowl.

Using measuring cups add ¼ cup vinegar, ¼ cup oil, and a tablespoon of honey. 

Sprinkle salt on. Mix ingredients with a spoon or toss ingredients with clean hands.

Serve and enjoy!
Don't forget to share with us!
Send us your salad ingredients for Chef John, a picture of your salad or your cabbage activity on Facebook (@TasteWiseKids) or Instagram (@tastewise_kids) and use the hashtags #TWKatHome and #myTWKsalad, or email info@tastewisekids.org.
Want to keep learning?
Up Next
#TWKFamilyFridays

– check our

Tasting Notes blog

,

Instagram

and

Facebook

this Friday – we will be sharing a very simple way our TWK team is staying positive and focused these days (teaser: it fits on a Post-It note!).