Visit the Waverly Farmers Market
by Rich Kolm, Days of Taste Program Coordinator
In Baltimore we're blessed with a lot of great farmer's markets, but definitely one of the best is the 32nd street market in Waverly. (Full disclosure – they have also been a supporter of our Days of Taste program for many years). It's got a bunch of fantastic vendors, has a fantastic community around it, and is the only outdoor market in the city open year round. A lot of you probably already go regularly, but if you haven't been before or if you have and have been overwhelmed by all the options we thought it might be helpful to highlight some of our favorite vendors and other market features to give you a good sense of what's around and some places to check out for fresh local foods.
A great place to start for your morning coffee is Pie Time! These crazy kids have mounted a proper espresso machine to a trailer and pull it into the market each morning, where they serve up cappuccino, latte, and americano coffees, in addition to their excellent homemade pies. Pictured left is Ann getting ready to make another coffee drink for her line of customers.
One my personal favorite farmers at the market is Billy, who's farm is on the eastern shore (pictured left). Billy brings a full spread of fruits and veggies to the market, but one of the things he's best known for is melons (and having an EPIC beard). In summer Billy's bringing a bunch of fantastic Cantaloupes, Canary melons, and Watermelons, and his selection and quality is the best at the market. If you haven't tried a Canary melon they're fantastic straight sweet delight, and his are especially good.
The Farm Alliance stand is a different one at the market because instead of the produce coming from one farm is comes from network of urban farms all within the city of Baltimore. On any given day you'll see produce there from Real Food Farm in Clifton Park, Strength to Love 2 in Sandtown, or Whitelock Community Farm in Reservoir Hill, among many others. You'll almost always see Lizzie's smiling face though (pictured left)! It's a neat stand to visit because it has a lot of diversity on one table and there's always a different mix each week.
One constant at Waverly for years has been Steve, or Merdalf as he goes by as a singer. Steve's got a great voice and he sings for everyone as they walk into the market off Barclay. He does one of the best renditions of "My Favorite Things" I've ever heard. In addition to playing his songs he also makes balloons for the kids, so he's a great stop on the tour if you've got children with you. He's a great guy who I've had the pleasure of getting to know over the years, a veteran who's trying to give back in his retirement by making music for the community and entertaining kids.
If you're looking to spruce up the place with some flowers, check out Locust Point Flowers. They have a huge range of beautiful, seasonal local flowers that are sure to be great for your kitchen table. Choose from pre-made bouquets like the one pictured or put your own together by selecting flowers sold by the stem.
One of the most popular stands at market is Black Sauce Biscuits. Their old style biscuits are AMAZING and made with local flour. Throughout the year they have a bunch of seasonal variation in what they add to their biscuit recipe, from apricots to rosemary to bacon. You can just get one straight up (my personal preference) or order a range of sandwiches featuring local meats and produce on the biscuit. If you want to give them a try though you'd better show up early or be prepared to wait in line; there's often 20 or more people waiting to get one! It's completely worth it though. One trick a lot of couples do is to have one person stand in line for the biscuits while the other does the shopping. Damian Mosley also was an amazing judge at our Farm to Chef Maryland event a few years ago.
Another fantastic prepared food vendor is Farm to Face Falafel. Miranda (pictured) and the crew do a great job of featuring the best of what's in season at the market in their wraps. All the veggies (from lettuces and other greens to carrots to sliced apples) come from other stands at market, an arrangement which works out great for everyone involved because the farmers get to unload what they have excess of, Miranda gets to do a lot of her procurement at the market, and the consumer gets to eat a falafel wrap of what's in high season. The falafel itself is fantastic, and they recommend a unique trifecta of sauces – sriracha, honey, and tahini – that's hard to believe how good it is until you've tried. Get it all wrapped up in whole wheat or in a big ol' collard green and you've got a fantastic farmers market food!
If you're interested classic fruits like peaches, berries, apples and more Black Rock Orchard is the place to be! Their donut peaches are especially amazing this time of year. They also have amazing apple cider come fall.
If you're into meat and eggs, stop by Andy's Eggs & Poultry. Andy's got consistently great eggs from healthy chickens. Support local chicken farmers who are doing it right!
If  mushrooms is what you're after, Maryland's own King Mushrooms is the place to stop by. They have a huge variety of staples and exotic mushrooms like portabellas, shiitakes, oyster, lion's mane, pioppini, Maitake (hen of the woods), morels (in season), and other interesting colorful varieties. We're so lucky to have a local farmer bringing his product to market for us here in Baltimore! Pro tip if you've got a bunch of people to feed get a discount by buying the mushrooms from him by the box.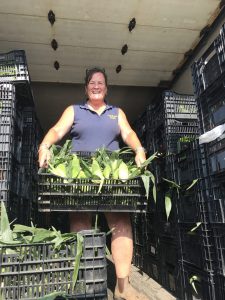 One of the mainstays of the market for decades has been One Straw Farm. One Straw has one of the largest stands at market, bringing a huge variety of organic fruits and veggies every week. Joan Norman (pictured) is one of the Matriarchs of the local farming scene and One Straw has been a constant presence in the community since the 80s, and is still one of the largest organic farms in the state. Joan was also the first farmer for our Days of Taste program 20 years ago and she has continued to host and delight our students every year since!