#TWKatHome Activities
Your Voice Matters
Welcome to TWKatHome, our fun, free online content that helps kids and families explore food and build positive, healthy eating habits. As we shift into fall and winter, we are changing our focus to Food Happenings, connecting food to current events. In the coming months, we will be exploring how food can help create a better understanding of the events around us.
In this week of Food Happenings we are talking about Martin Luther King Jr. Day as well as the upcoming Presidential Inauguration next week. We'll be talking about some inspiring leaders and how your voice is important to creating positive change for everyone.
TasteWise Kids - are you hungry for some learning?
Did you do a TWKatHome activity? Share what you learned or created from the activity on our social media! We'd also love to hear your ideas for what other content you'd like to see from TWKatHome. Share with us on Facebook (@TasteWiseKids) or Instagram (@tastewise_kids) and use the hashtags #TWKatHome and #myTWKsalad, or email info@tastewisekids.org.
On Monday, we'll celebrate MLK Jr. Day, a national holiday to honor and remember the hopes of civil rights activist, Dr. Martin Luther King Junior. Shortly afterwards, on Wednesday the 20th, Joe Biden will be sworn in as the new President of the United States. We will learn about both of these days, how you can be an activist, and we have a recipe to ring in the new Presidency!
Why Do We Celebrate MLK Day?
Dr. Martin Luther King Jr. was a leader of the civil rights movement, fiercely advocating for racial justice and inspiring others to speak out against racial discrimination.
The civil rights movement was a political, legal and social struggle to gain full citizenship rights for people of color in the United States. The efforts to reach equality took place throughout the 50's and 60's and resulted in major civil rights laws being passed.
To learn more about the civil rights movement and African American history, check out Facing History's collection on race in US history.
Along with thousands of others, Dr. King made many personal sacrifices to further his cause. He was arrested multiple times for participating in peaceful protests and in April of 1968 he was assassinated by a white man who was a known criminal and segregationist.
More important, perhaps, than his brave sacrifices for the movement was Dr. King's ability to inspire others to speak out and take action. He was an incredible public speaker and his words and dedication to equality continue to motivate people to rise up against injustice.
We celebrate MLK Day not only to remember the life and work of Dr. King but to further his commitment to service. Consider using this holiday as a day of service to those in need.
Need Some Ideas on How to Serve?
Donate shelf stable items to a food pantry or homeless shelter. Take a look at

this list of most needed items

to get an idea of what you could donate.

Write and decorate greeting cards to a local hospital or nursing home. You can write to check in on and cheer up patients or to thank staff members who provide their care.
Take a walk outside, at a park or some local trails and bring along a trash bag and some gloves. While you are out enjoying nature, pick up any litter you see and put it in your trash bag to bring home and dispose of properly.

If you can, donate funds to a

racial justice organization

to help continue the work towards equality.
What About Inauguration?
Next Wednesday the next President of the United States will be officially sworn into office. In the November Presidential election, democratic candidate Joe Biden was declared the winner and will begin his four year term on the 23rd.
Like any political candidate, Joe Biden has many ideas and goals for how he would like to change our country to make it better. But he will not be making those decisions alone.
The voices of other politicians and of citizens can directly affect the laws that are made and how our country evolves. In our Dinner Democracy activity from November, we learned that voting is one way to get involved in those decisions. But voting isn't the only thing you can do to participate in our government.
In this week's activity we will be making Recipes For Change and teaching you how to send them to the right people so that your voice is heard. Follow the activity below to write your own recipe and get started as an activist!
Activity: Recipe For Change
MLK knew the power of using your voice to produce change. Writing to an elected official is a great way to begin using this power. This activity is designed to introduce you to activism and the importance of sharing your voice.
Follow the steps below and use our printable Recipe For Change template to learn about your role in our government.
Don't forget to share with us!
What did you put in your Recipe For Change? Send us a picture of your letter on Facebook (@TasteWiseKids) or Instagram (@tastewise_kids)! You can also email us at info@tastewisekids.org.
Instructions:
Step 1
Start by choosing who you would like to send your recipe to. Have a parent help you decide which official would be best. You could write to the School Commissioners, your Mayor, Senator or even the new President. Fill in the person's title at the top of the template.
Step 2
Fill in the information about yourself in the template. This helps show your elected official how you are connected to the community and why they should care about your thoughts.
Step 3
Talk about some of the problems you see or have experienced. It's important to identify whats wrong in order to find solutions. For younger kids, ask questions about their local community. Have you seen a lot of trash on the ground lately? Do you think you are getting enough options for school meals? For older kids, discuss what is going on in the wider world. What do they know about sustainability? Racism? Homelessness? Fill in the issues you identify in the template.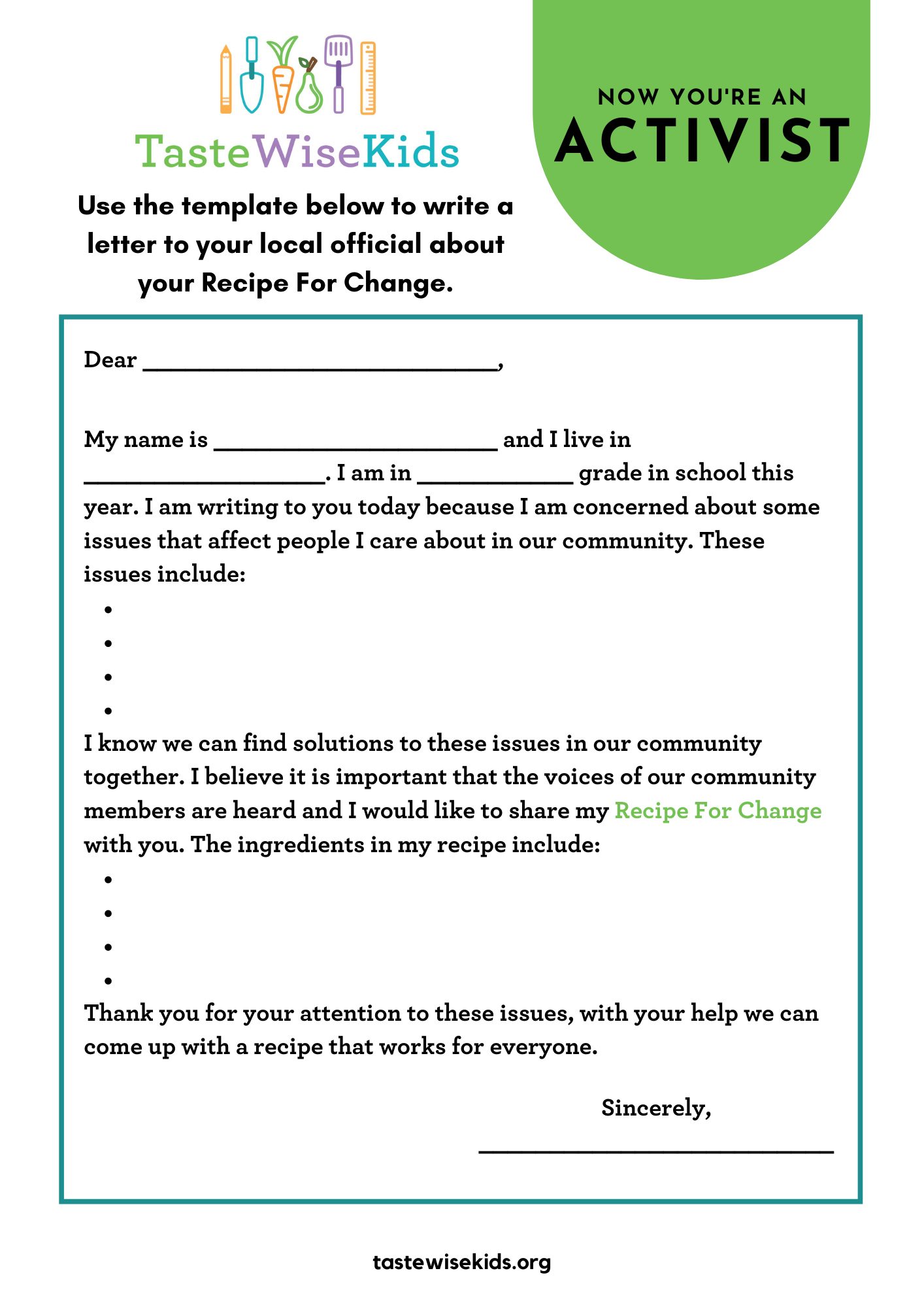 Step 4
Brainstorm ingredients for change. Now that you've identified some things that you think aren't working well, talk about how to make them better. This can be as simple as saying we need more patience or compassion. It can also be a concrete suggestion like placing more trash cans in public places or providing funding to help homeless populations find jobs and housing. Write these in the template as well.
Step 5
Great job, you just wrote a Recipe For Change thats almost ready to get sent in the mail! Have a parent help you address it and put postage on it.
What's Joe Biden's Favorite Food?
As we welcome Joe Biden back to the White House next Wednesday, we might be wondering what his first meal as President will be.
In an interview, former President Barack Obama revealed that one of Biden's favorite foods is spaghetti with red sauce (also ice-cream). Great choice Mr. Biden!
Spaghetti and red sauce is a great crowd pleaser, and with a little extra effort it can be a super special dish. We have an easy and versatile red sauce recipe for you that will jazz up any boxed pasta.
Go-To Red Sauce
Ingredients:
1 carrot

1 celery stalk

1 medium yellow onion

3 cloves of garlic

1 28oz cans of crushed tomatoes

4 tablespoons of butter

2 tablespoons of tomato paste

2 teaspoons of dried oregano

Salt and pepper to taste
Directions:
Begin by finely dicing the carrot, celery and onion.

Melt the butter in a large skillet over medium low heat. Add your veggies and stir to coat them in butter. Season with salt and pepper.

While your veggies are simmering, mince your garlic cloves. Add them to the pan when the mixture is just beginning to turn translucent (after about 15 minutes).

Add your tomato paste and mix until the paste has coated your veggies and begun to sizzle in the pan.

Add the oregano and your crushed tomatoes with their juice and reduce the heat to low. Simmer for about 15 minutes or until the sauce has thickened. If needed, season with extra salt and pepper.
This sauce is beautiful to watch come together (oh, how those veggies glimmer in the butter!) and even more beautiful to eat. You can adjust it to however you like your red sauce. Maybe some red pepper flakes or a little bit of fresh basil? If you prefer a smoother sauce, you can puree it in a food processor or use an immersion blender. Enjoy this on pasta, meatballs, in lasagna or as a dipping sauce!