#TWKatHome Family Fridays
Outdoor Summer Food Safety Tips for Families
It's that time of year for eating outside. Whether you are grilling, eating crabs, or just enjoying some watermelon and popsicles outdoors, it's always important to take a few minutes to ensure you are following food safety guidelines. While not as much fun as planning the menu or activities for your time outside, it's critical for ensuring everyone stays healthy. Here's a few quick tips to help you and your family enjoy your meals outside!
Clean, separate, cook, and chill!
Foodborne illnesses peak during the summer because bacteria grows faster when it's warmer and because preparing food outdoors makes safe food handling harder to do. Safety experts therefore suggest following 4 steps when cooking outside: clean, separate, cook, and chill.
Clean:
Wash hands, surfaces often and rinse produce thoroughly before consuming.
When eating away from home, prepare by bring paper towels, moist towelettes and hand sanitizer to ensure cleanliness.
Separate:
Wrap raw meats and fish tightly when packing to ensure their juices don't contaminate other foods.
Never place cooked food on the same plate that previously held raw food unless it has been washed.
Cook:
Don't be fooled by grill marks and browning when cooking outdoors! Take a thermometer along to ensure meats reach the correct internal temperature before serving
Chill:
Make sure to pack perishable items in ice, ice-packs or containers of frozen water.
When possible, place your cooler in a shady place and avoid opening it often.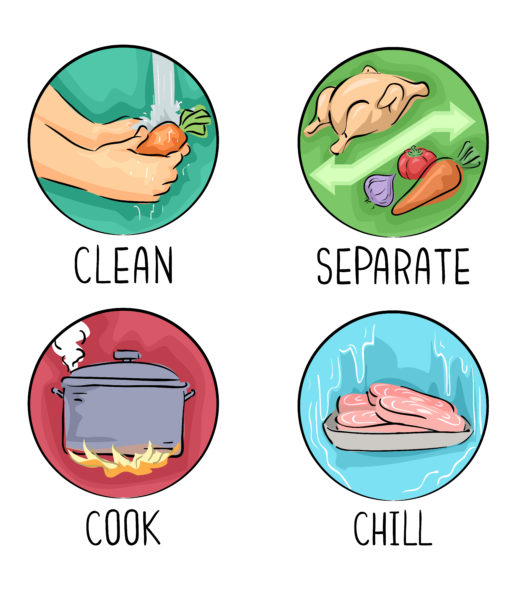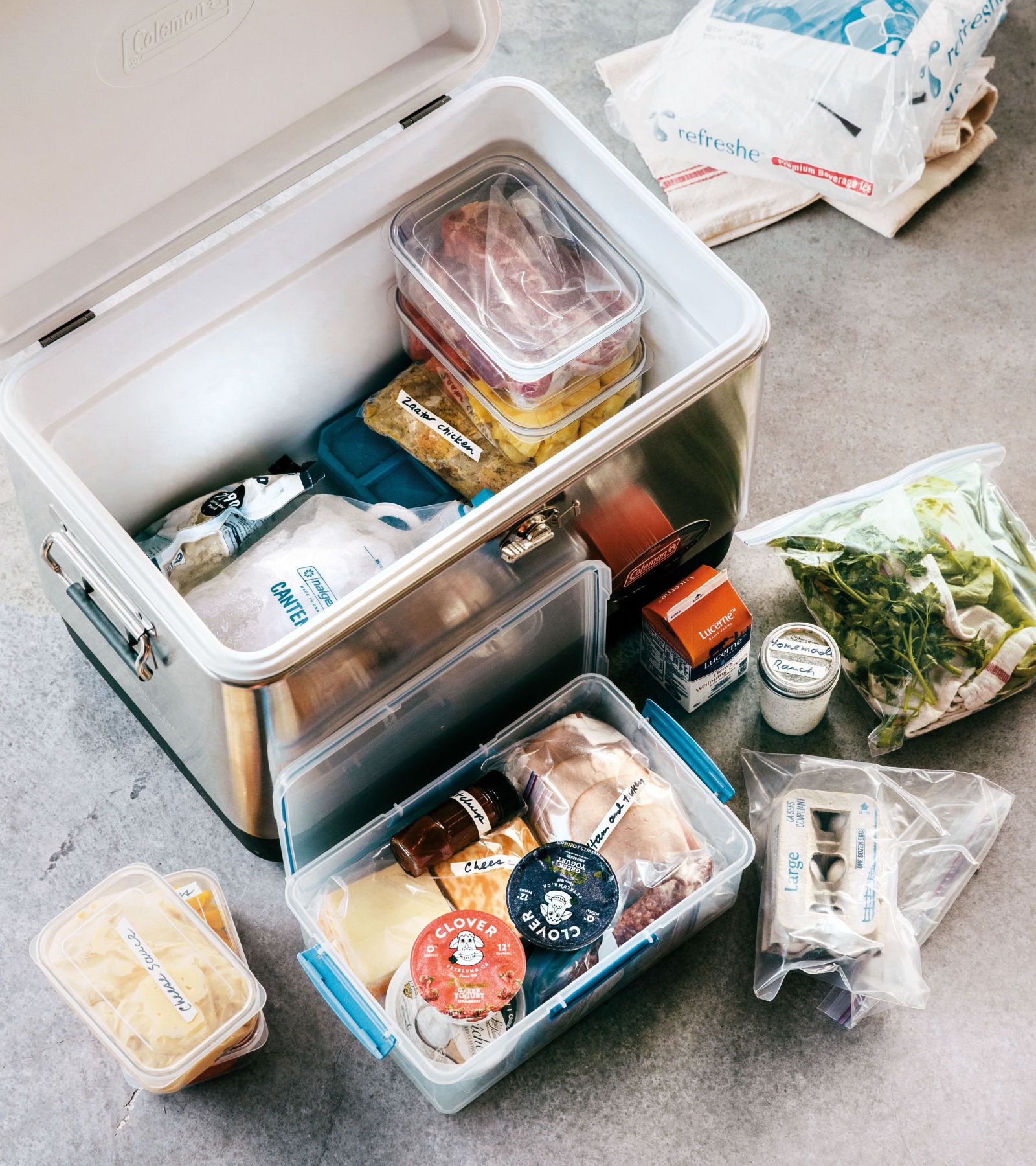 How you pack can matter.
When you are using coolers outside, think about the purpose of each – place drinks or things you will need a lot in one cooler and perishable items in another. Try to limit how many times the cooler with perishable items is opened – one way to do that is keep it near the cooking area so folks don't confuse it for the drink cooler.
Watch the clock.
No one wants to see those delicious deviled eggs or extra hot dogs go to waste. So pay attention to the time –  the easiest thing to do is to put food away as soon as you finish eating or place serving dishes on ice. As a general reference, food left out of refrigeration for more than two hours may not be safe to eat. When the temperature is above 90 °F, food should not be left out for more than one hour.
Make it a game!
Help your kids learn the basics of food safety and also keep them busy with these activity books from the U.S. Department of Agriculture, available in both English and Spanish. Once kids know what to be on the lookout for they can be the "time keepers" or "clean up crew".
For more detailed information on food safety, Foodsafety.gov is a great resource and has easy to find tips and guidelines organized by season and event type. Check out their summer section for more tips and even a colorful poster you can print and hang up. The FDA also has a great all-in-one resource about preparing and eating food outside.
Want more ideas on how to make this summer special? We are very excited to partner with (cool) progeny throughout the month of July to offer Family Foodie Fridays!
(cool) progeny is the trusted source for Greater Baltimore area parents in the know – check out their weekly themed Summer Adventure Series (up next week: Steam Power) and their Summer Passport for deals from local businesses, virtual experiences, and fun!