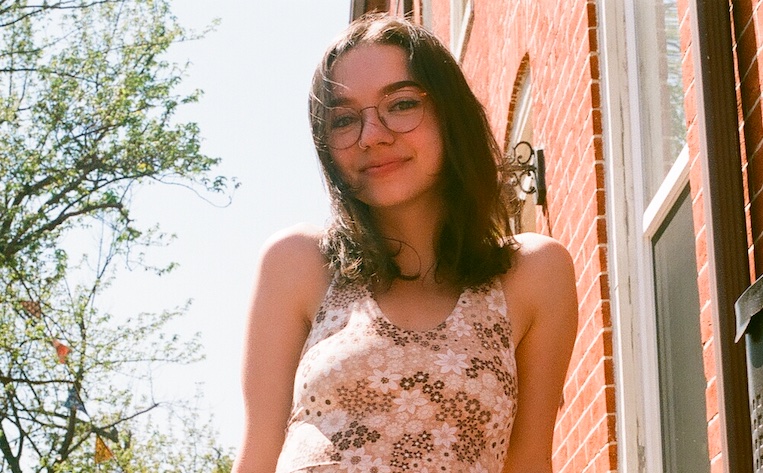 TasteWise Kids Welcomes Summer Intern
We are pleased to welcome our newest intern, Roxy Blocksdorf, to the TasteWise Kids family.  Roxy is a rising senior at Mount Holyoke College in Massachusetts, where she is majoring in Urban Studies.  Raised in South Baltimore, Roxy is interested in housing and planning policy, especially how policy affects children and families.  At TasteWise Kids, Roxy will focus on communications outreach and social media.  She is excited to make connections with Baltimore families and kids, and to learn more about food education through our work.  Roxy has also worked with local farms and several nonprofits that center on food justice and access.  Outside of school and work, she loves running, taking long walks around the city with her two-year-old lab, Mina, and baking everything from seasonal fruit tarts to sourdough bread.  Potatoes, in any form, are her favorite vegetable.
If you could have one meal at a local restaurant, what and where would it be?
I'm very indecisive and love restaurants that have loads of options, so I'd say Papermoon Diner is always my go-to. I love being able to have pancakes for dinner, or an elaborate salad followed by a Cap'n Crunch milkshake.  Really, any place that offers mashed potatoes as a side dish is a go for me. I also love taking people who have never been and letting them marvel at the doll heads and tricycles dangling from the ceiling.
If you could travel to any city in the world for a "food trip," where would you go?
I'm dreaming of going to Rome and eating fresh pasta and gelato to my heart's content. One of my quarantine shows was Chef's Table, and I was so moved and inspired watching Italian chefs make such elaborate, delicious dishes out of the simplest ingredients.  The idea that flour, water, egg yolks, and tomatoes and herbs can create something so amazing is a beautiful thing for me.  I also love the way that Italy, although it's certainly not the only country to do so, really makes use of local ingredients and all of their elements.  I once went to the rural region of Italy that grows hazelnuts for much of Europe, and EVERYTHING had hazelnuts – ice cream, salads, pasta and meat dishes, everything. I think going somewhere and tasting food from there is such a meaningful thing.
What is a favorite food related memory from your childhood?
My family is from southwest Germany, and I have amazing memories of driving just 45 minutes south to the French border and going to get a kind of French-German pizza called flammkuchen, or tart d'Alsace. The pizza is ultra-thin, and has a layer of crème fraîche, Gruyère cheese, caramelized onions, and bacon. When I was 12 or 13, I remember we went to a tiny restaurant that was part of a family farm, and I was so miserable between the smell of horses and the flies everywhere, but the pizza remains in my memory as the most wonderful thing I've ever eaten. Flammkuchen means "flame cake," and refers to how the crust is so thin that it needs barely a minute or so before it's charred to the point of nearly being on fire. Trader Joe's sells a frozen version that's pretty good!
What is your favorite thing to cook at home?
Though I'm not much of a chef, I do love to bake, and my happy medium between cooking and baking is pizza. I usually make pizza once a week and will try to put all of the leftover veggies in my fridge on it, along with some tomato sauce and fresh mozzarella. We grow our own basil and it is DELICIOUS on pizza, and we are working on a tomato plant, so hopefully I can start cooking with those soon!
What are a few things that are always in your fridge?
I can't go without a few blocks of feta in my fridge.  I love to bake feta with lots of fresh herbs, garlic and tomato until it's almost melty but still intact and has this unique squeaky texture.  My aunt, who famously can't cook, will always bring a watermelon, mint and feta salad to all family gatherings, and I love to make that too. We also always have in our fridge at least four cartons of local eggs that we get from the market on Saturdays.  I'm convinced eggs go with everything and make an amazing breakfast, lunch or dinner!  Finally, and I'm not sure if these should even go in the fridge, but corn tortillas are a must.  Though it's not the most authentic way to do it, I'll really put anything in a tortilla with hot sauce and salsa and call it a taco – scrambled eggs, tofu, sautéed veggies and black beans.
Thanks, Roxy, for sharing your story! We look forward to getting to know you better!