Staff and Board Favorite Holiday Recipes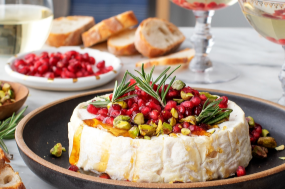 Today we'd like to share board and staff holiday favorite recipes. If you're looking for something to round out your table in the next few weeks, we hope we can help!
From everyone at TasteWise Kids to you, we hope you enjoy these favorites in good cheer this holiday season:
Dana Slater, Board Member, loves to make this delicious baked brie, an easy crowd pleaser fancied up with crunchy pomegranates and pistachios.
Jerry Edwards, Board Co-Chair and Executive Chef and Owner of Chef's Expressions, promises this will be the most delicious cornbread you ever eat (Cornbread by Shirley Courier). The best part? It uses just one bowl.
Kerry Flanagan, Manager of Community Engagement and Support, swears by this white chili recipe for casual holiday gatherings and beyond, especially for those taking place around the fire pit. It also freezes well for those busy weeks, so she often doubles or triples it. Equally good without the chicken for vegetarians 🙂
Kiah Gibian, Chef and Owner of  Wilde Thyme and behind the scenes Days of Taste Wizard, couldn't just give us the stuffed squash earlier this week, she also has been serving up this Fish in Parchment, sure to dazzle any guest.
Wendy Jeffries, Executive Director, loves this cranberry orange bread recipe so much, it ends up making a few appearances throughout her holiday season.