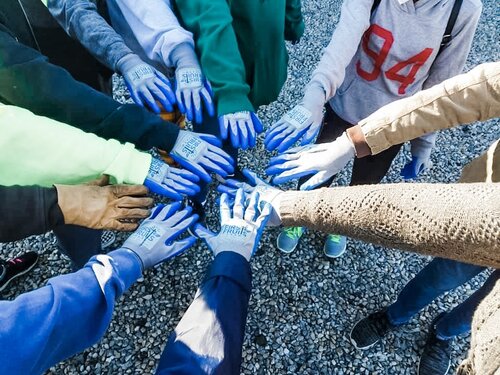 TasteWise Kids has always been lucky to have helping hands in everything we do. We are forever grateful for the generosity of the many special people who choose to dedicate their time to help us in our mission. This summer, we had the pleasure of working with Roxy Blocksdorf, now a senior at Mount Holyoke College. In this blog, she reflects on how her time at TWK has helped her to get back in touch with her home city. Roxy, please stay in touch!
A Note From Our Summer Intern, Roxy
Even though I've been home in Baltimore doing school and work remotely, there have been times in the last year where I felt disconnected from the city and other people. This summer at TasteWise, I was able to get back in touch with the city and the things that mean so much to me. Getting the opportunity to help make our wonderful activities more available to Baltimore families has been one of the best parts of the last year and half, and has really grounded me.
Everyone I worked with at TasteWise was incredibly patient, helpful, and, most importantly, committed to learning. Not only does the work at TWK focus on expanding food education, but everyone at the organization is also always learning from and listening to one another. The work is collaborative, engaging, and inspired by a love of food, education, and the city of Baltimore.
Working with the wonderful Wendy, TWK's Executive Director, I was able to gain insight into how nonprofits are structured and run. Wendy showed me that even though this work requires a lot of coordination and communication, it isn't impersonal. On the contrary, Wendy's work is always concerned with how this wonderful organization can best reach people and meet families' needs. Being a part of an organization that cares is an amazing experience, and one that I don't take for granted.
I was also able to assist with social media, and Izzy was such a helpful source to learn how to make content accessible and interesting. Working with her, and being able to see how media is used today, was an indispensable part of this experience.
For work that is so rooted in community, the adaptation to pandemic conditions is not easy. All summer, I was amazed by TWK's ability to adapt and maintain their standards when it came to reaching families. I will never forget the time I was lucky enough to spend here this summer, and look forward to volunteering and working with everyone again soon! To everyone at TasteWise, I thank you sincerely for your encouragement and for sharing so much with me!
Want to Work with TWK?
As Roxy said, our organization is focused on our community and we rely on our neighbors and friends to make TWK what it is today! One of the best ways you can help is by spreading the word about our organization and its mission. Share our online activities with friends, parents, teachers or anyone passionate about food education. Follow us on Facebook or on Instagram to help us spread the word to a wider audience.
Interested in volunteering your time? Check out our page on how to get involved with TWK for more information on what you can do to help us in our mission.