#TWKatHome Activity: Seeds and Plants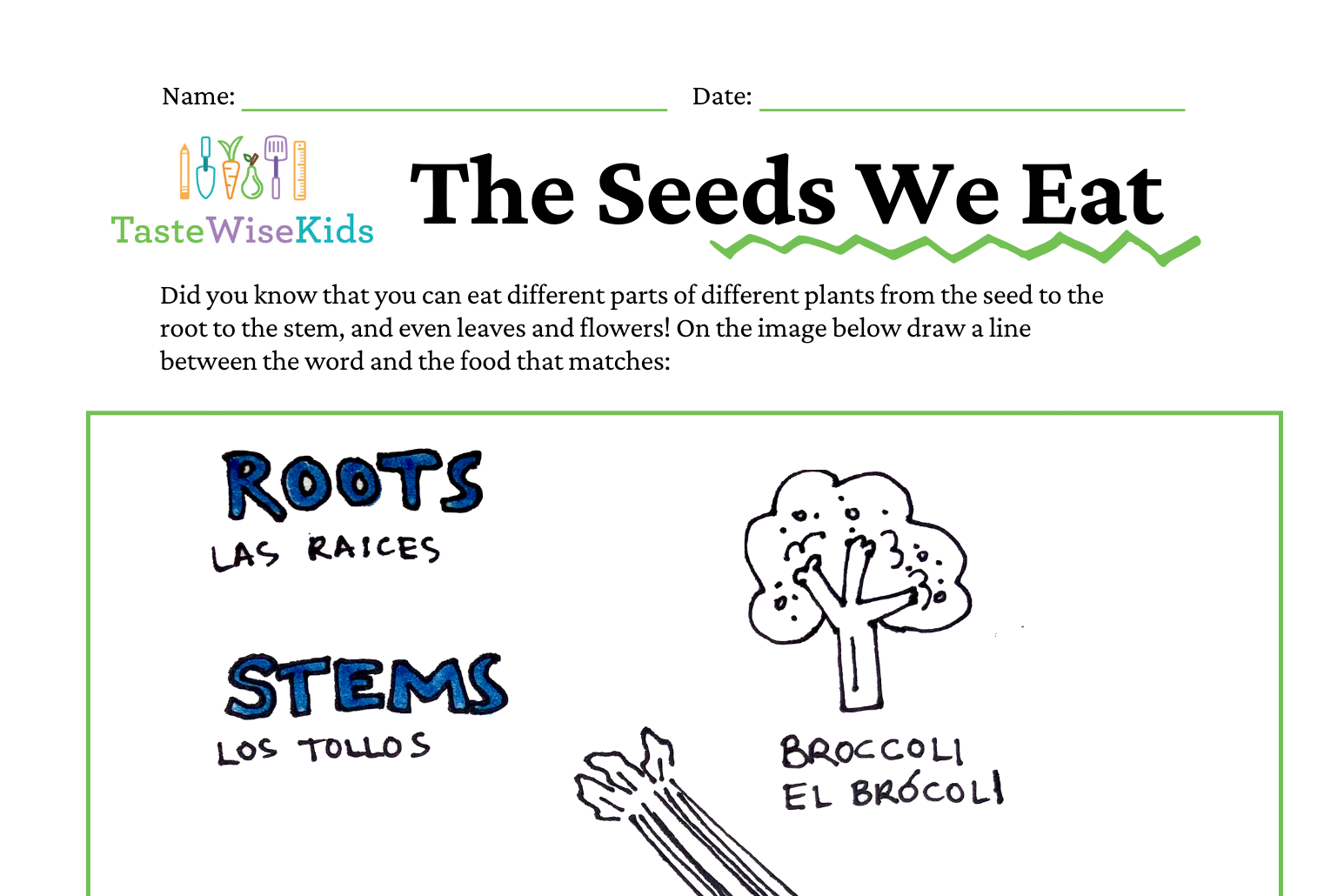 Tuesday, May 26, 2020
This week we are wrapping up our salad month – focusing on different plant parts we eat and fun uses for seeds.  If you missed the past few weeks, check out our entire #TWKatHome series here.
Connect with Us
Post or send us a question about cooking with seeds or making salads for Chef Kiah to answer on Facebook (@TasteWiseKids) or Instagram (@tastewise_kids) and use the hashtags #TWKatHome and #myTWKsalad, or email info@tastewisekids.org.
This week's theme: Plant Parts and Seeds
Wrapping up our celebration of National Salad month, we are spending this week learn about the parts of plants that are edible and then digging a bit further into seeds. While you may not have thought much about it, seeds are a great addition to any salad – and are fun to eat on their own too!
Ok TasteWise Kids – are you hungry for some learning?
Learn from an Expert: Kristina Gill, Cookbook Author
Today we have Kristina Gill as our expert. She is an award-winning cookbook author, humanitarian adviser, photographer, and dog lover. She was also the food editor for over ten years at the popular website DesignSponge, before it closed in 2019. Kristina currently resides in Italy but hopes to return sometime soon-ish to her hometown, Nashville. 
Kristina likes to think about the "treasures" she can add to her salad – which often can be seeds or herbs. To help us improve our own salad making skills, she is sharing with us her Top 5 salad tips. Kristina should know as she has spent a lot of time in various restaurant kitchens, asking lots of questions, and eating a lot of salads. (she also reminds us to make sure to properly wash your hands and clean all your surfaces before handling food!)
Make sure the lettuce, if you're using it, is thoroughly cleaned (you don't want gritty salad!) and dry (you don't want soggy salad!). You can use a salad spinner for this or lightly roll it up and press with paper towels to blot out the moisture. I like a variety of lettuce for different textures and tastes.
I always like to have one or two 'treasures'– whether it is candied nuts, cubes of my favorite cheese, bacon, olives,pieces of leftover chicken. I feel like I hit the jackpot when my fork picks one of them up.
I like to have crunchy things. Carrots are my favorite. But also nuts, radishes, celery, red peppers, celery. 
Salads don't have to be made of lettuce. I had a wonderful lentil salad in Geneva made with onions, bell peppers, and other herbs. I've also had nice chickpea salads, potato salad, fennel and grapefruit salad. I think mostly anything served cold or sometimes warm can be called a salad. Can't it?
For salad dressings, if you are serving a lettuce-based salad, wait right before eating to add a small amount, then let guests add more if they like. That way the salad doesn't get soggy, and you don't add too much! 
Activity: 
Today we have another fun activity from Chef Kiah (TasteWise Kids contributor and chef and owner of Wilde Thyme Food truck). 
Please download and print out the activity sheets – The Seeds We Eat – or follow along below and draw your own pictures as you go.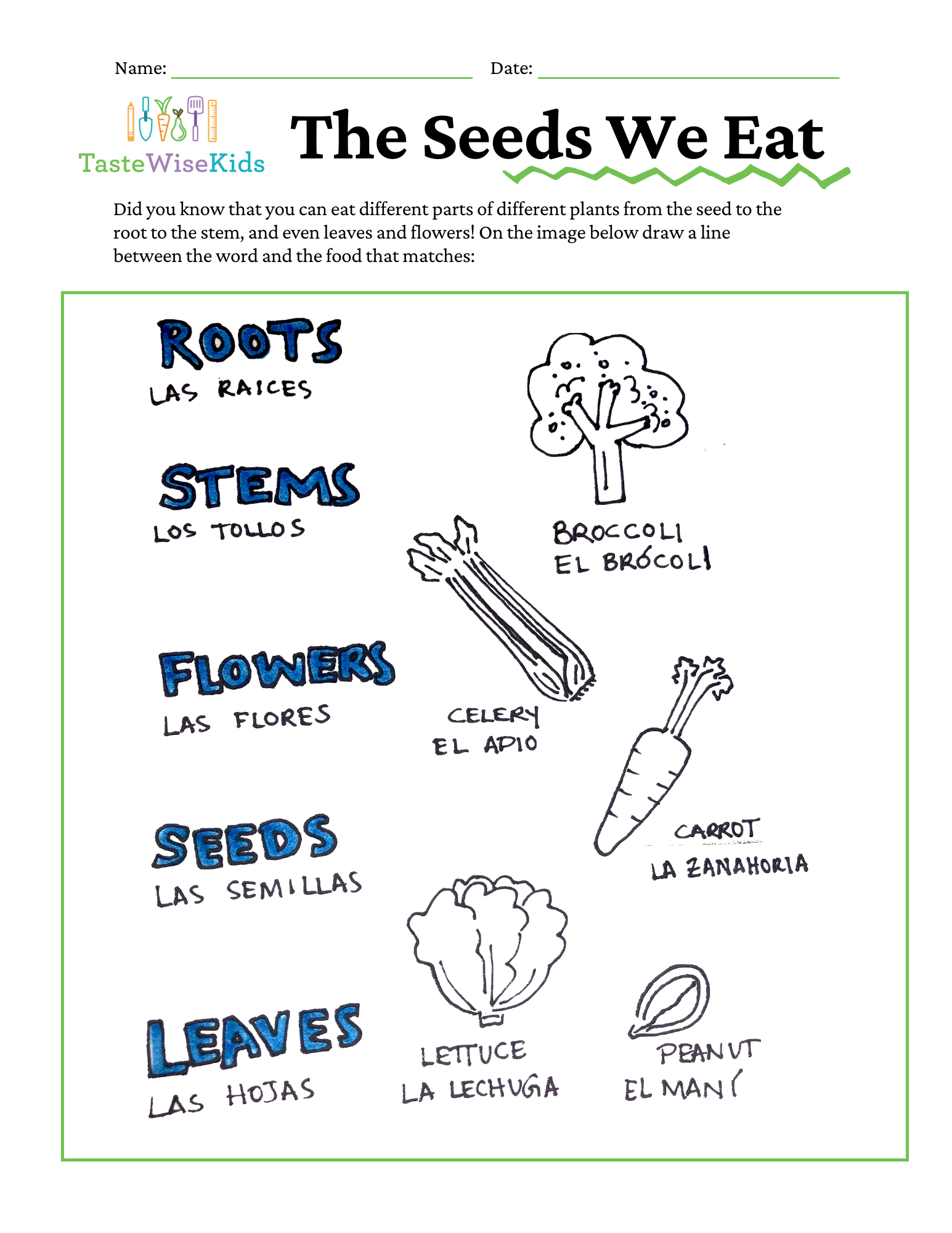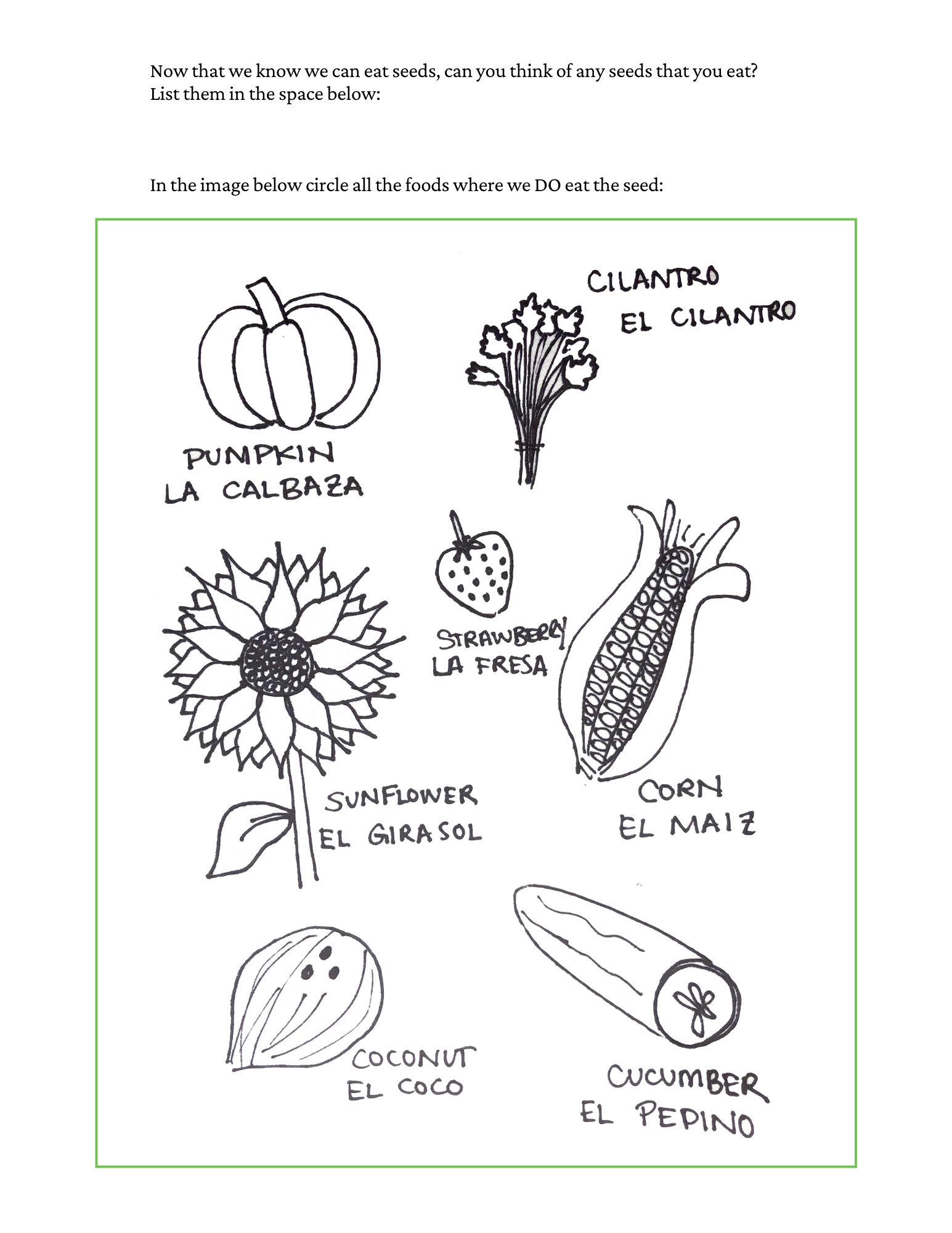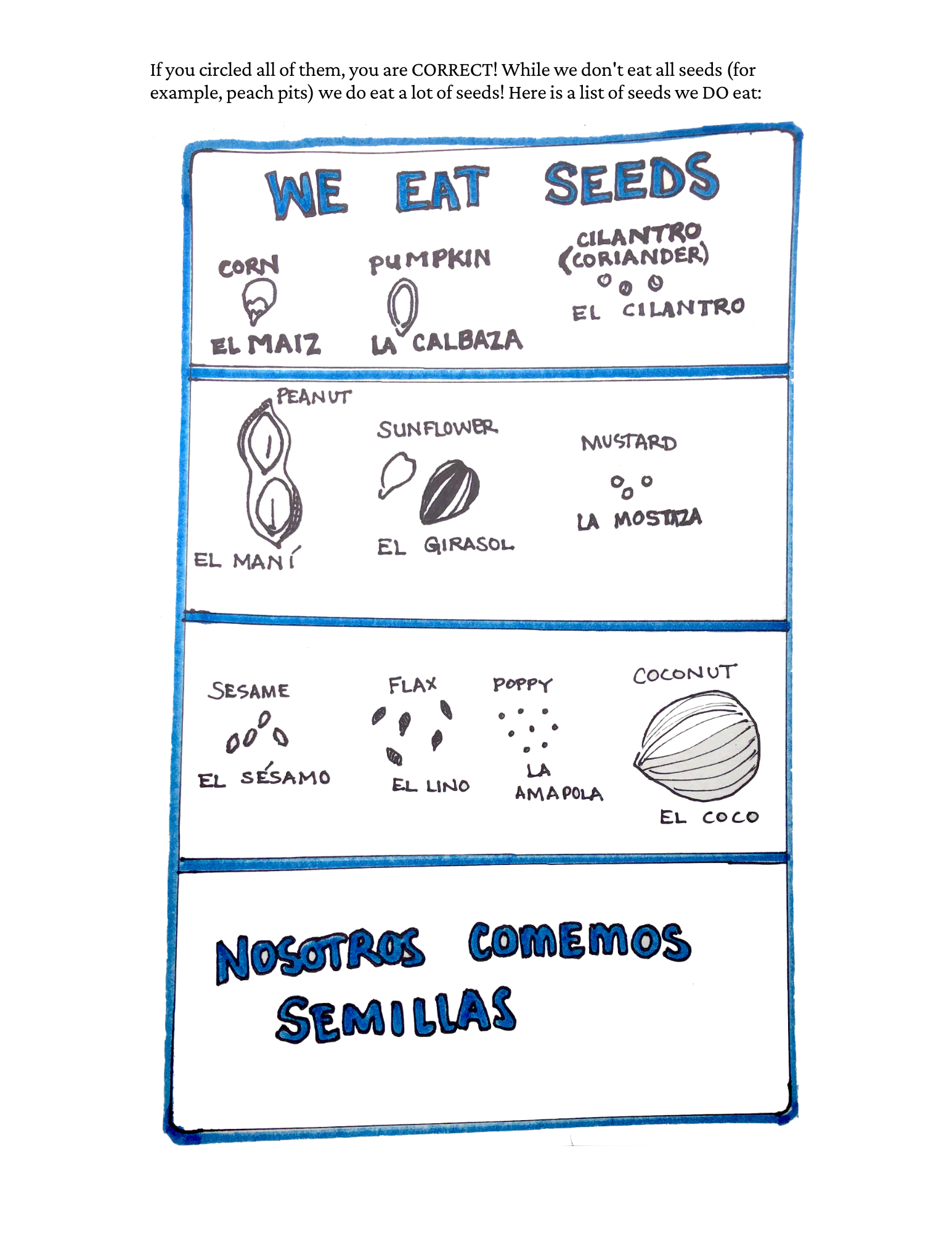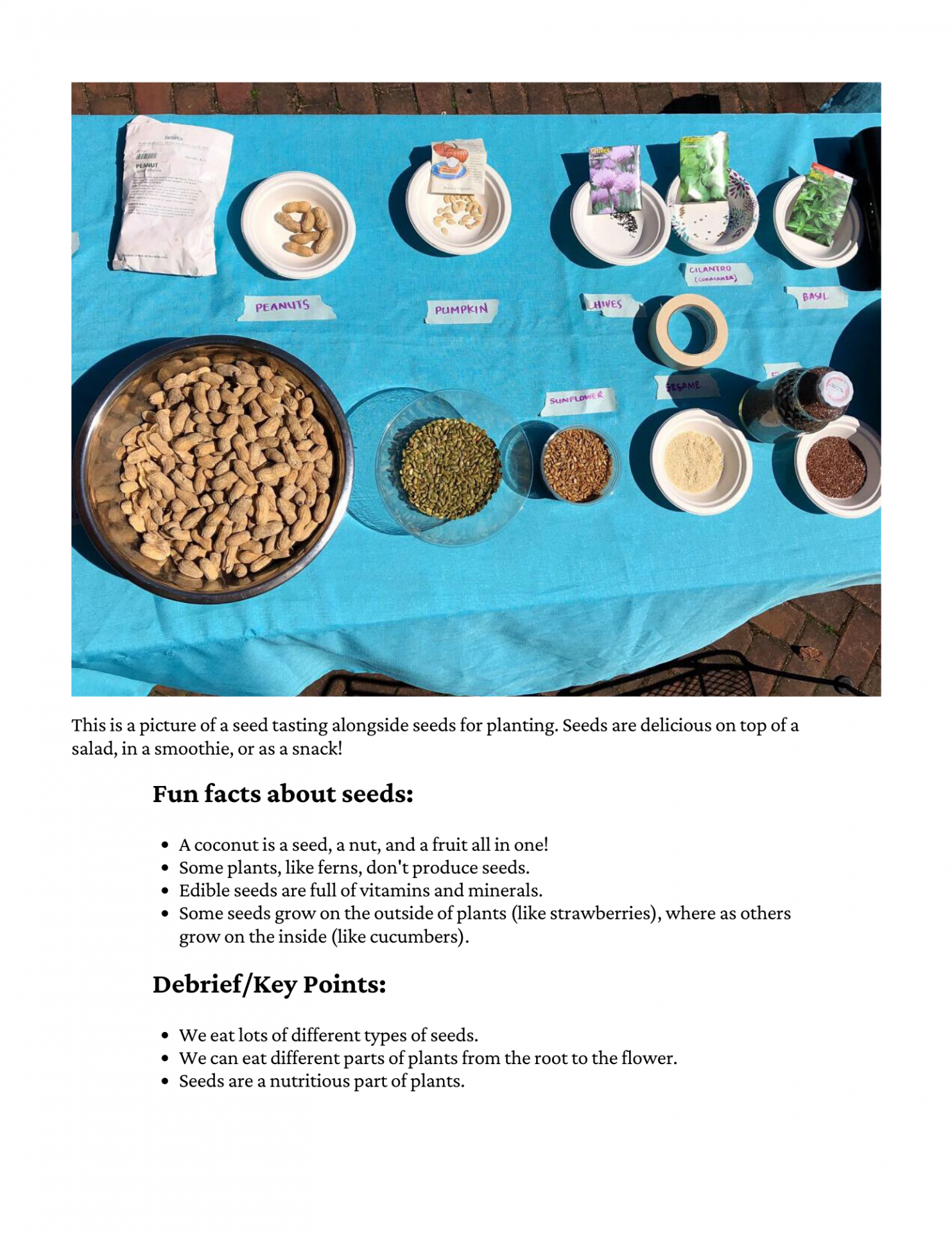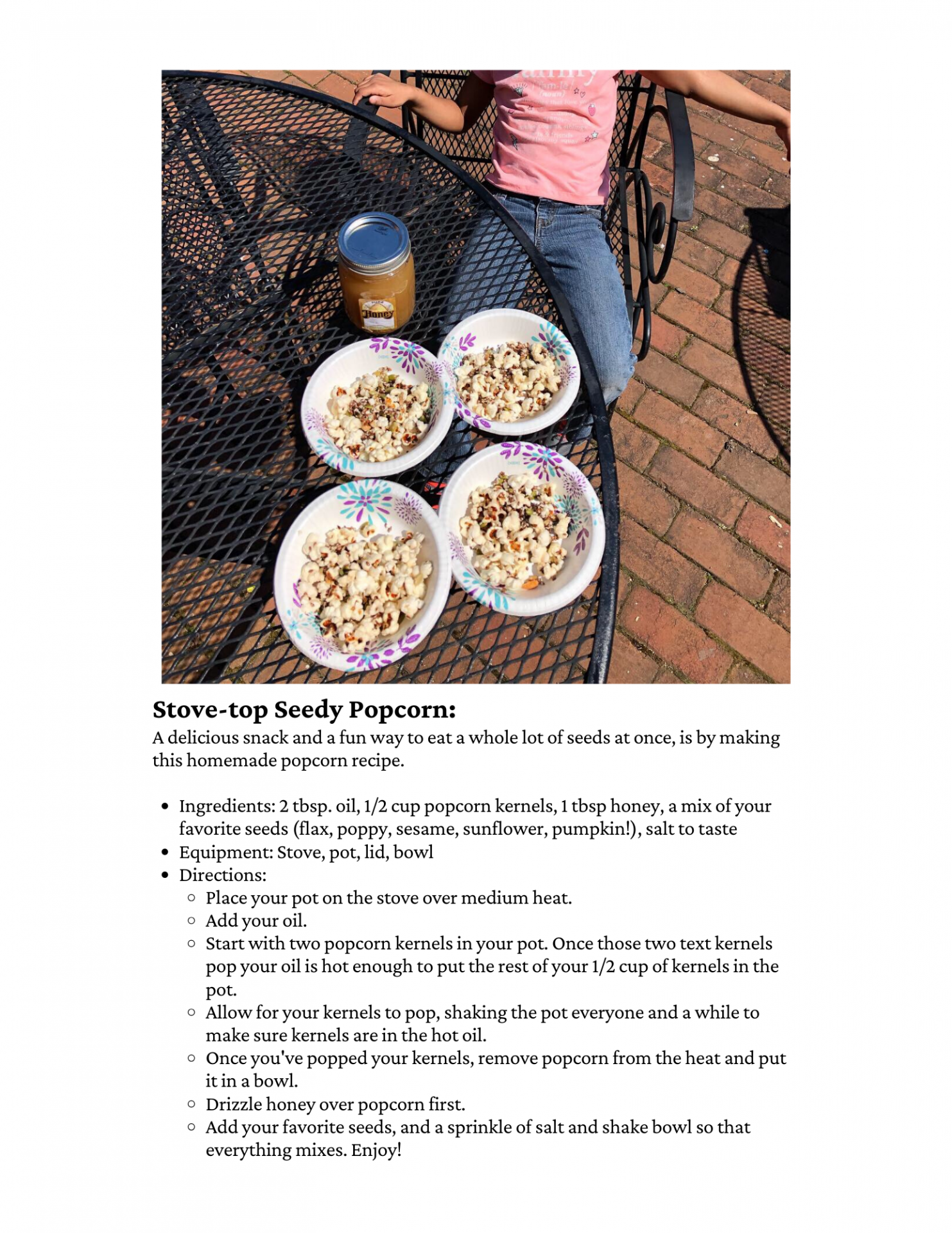 Now that you have learned a bit about seeds and what plant parts are edible, you can get creative by making some plant part art. Below is an activity we do at TasteWise Kids with our younger food explorers. This activity can also be adapted for older kids by asking them to draw their own flower and identify the parts instead of using the worksheet or have them make an abstract piece of art instead of using the flower as their guide.
Materials
One "Plant Part Sheet" or draw one flower with labeled plant parts

Cut fruit or veggies that represent each plant part – examples:




flower (cucumbers), seeds (corn or sunflower seeds), stem (celery), leaf (spinach), roots (carrots) – could also use pictures of each of these plants or just have kids draw them onto the picture if you do not have the actual items

Glue
Instructions
Identify the parts of the flower and think about different types of fruits or vegetables that represent each plant part. For example, for leaves – spinach, lettuce, arugula, etc.

Use the cut up vegetables to cover up each appropriate part of the plant (see picture as example) gluing them down.

Hang up the picture. These pictures will last a few weeks – the vegetables will dehydrate and shrivel but they make nice artwork!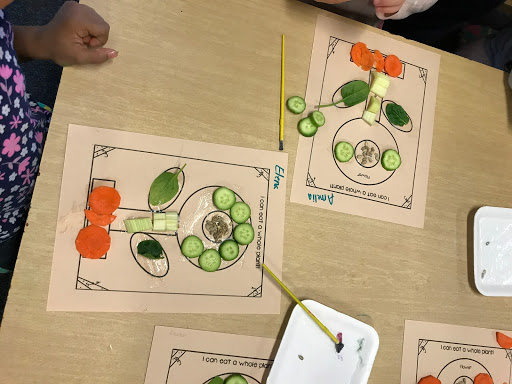 Debrief/Key Points
We eat lots of different types of seeds. 

We can eat different parts of plants from the root to the flower.

Seeds are a nutritious part of plants.
Don't forget to share with us!
Post or send us a question about cooking with seeds or making salads for Chef Kiah to answer on Facebook (@TasteWiseKids) or Instagram (@tastewise_kids) and use the hashtags #TWKatHome and #myTWKsalad, or email info@tastewisekids.org.
Want to keep learning?
This week we are sharing some resources on herbs since they are another great topper, or "treasure" for salads.
Up Next
#TWKFamilyFridays

– check our

Tasting Notes blog

,

Instagram

and

Facebook

this Friday – we will be sharing one of our favorite – conversation starters that can also be an art project.