Welcome to Our Newest Board Member, Amber Perry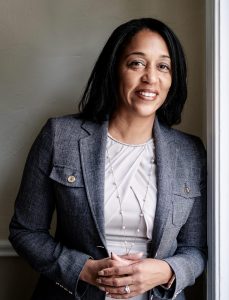 TasteWise Kids is thrilled to welcome Amber Perry to our Board.  Amber has been with the Exelon Corporation for 13 years and is currently a Director in the Audit Services team. In her current role she is responsible for leading the Utilities Core Assurance and Advisory team as well as the Anti-Fraud efforts across the organization. Kerry Flanagan, TasteWise Kids Manager of Community Engagement and Support, recently spoke with Amber about her work outside Exelon and what inspired her to join the Board of Directors at TWK.
How are you involved with TasteWise Kids/Days of Taste?
I am one of the newer Board members at TasteWise Kids and currently the Lead of our Diversity, Equity and Inclusion Committee. The work of this committee is important to ensure the TWK leadership, the Board and our programming partners understand the importance of supporting all children and embracing the strengths in our differences along the way.  Although we plan to remain virtual for many of our Fall programs, I look forward to supporting our programs this Fall during Days of Taste to continue our focus on healthy, fun food prep.
What is your job and/or how are you involved in the food scene in Maryland?
Interestingly enough I am an Audit Director for an Energy and Utility company so I am not in the local food scene as a chef or a farmer. However, I am a big foodie! I love vegetables and shifted to eating more healthy, clean food about 20 years ago. I stopped eating meat and now eat fish and fresh vegetables, and I avoid processed foods and preservatives. I have learned the more natural your food remains, the more efficiently your body can use the right nutrients.
In your opinion, what makes Days of Taste and TasteWise Kids so special?
TasteWise Kids is extremely special because the programming focuses on creating healthy, lifelong habits for children! I have seen children shift away from really understanding the importance of healthy eating and food sources over the last 20 years. Once the microwave became a common kitchen appliance, many families shifted away from healthy, fresh meals to meals of convenience, which typically meant processed foods with no fresh produce. TasteWise Kids enables children to learn healthy, fun meal prep for their unique tastes and teaches about healthy food sources. Healthy eating supports more active children who have strong minds and bodies.
During our Days of Taste event, approximately 83% of the participants try a new fruit or vegetable, which has a huge impact on children who are still exploring and learning about different foods. When TWK had to pivot the Days of Taste event to a virtual learning format as a result of the pandemic, they provided children with salad kits so they could share their educational experience and creative cooking ideas at home with their families. The organization also started TWKatHome to provide online food education resources.
The other aspect that makes TWK special is the staff, Board members, programming partners and volunteers who are passionate about delivering the best programs and making a positive impact across the communities we serve. The programs are a great way to build confidence and empower children by teaching the end-to-end process of farming to food prep with fresh produce. All of the programming offered at TWK supports the development of future leaders who are more conscious of the environment and may one day pursue a career in the farming or food service industry.
All of these aspects make TasteWise Kids special and I am honored to be a part of supporting their mission!
What is your favorite vegetable?
Brussels Sprouts! I love that I can grill, oven roast or eat them raw, and they are fantastic, low-calorie sources of fiber, vitamins and minerals. Brussels sprouts are also high in antioxidants, which may reduce cancer growth, decrease inflammation and promote heart health.
If you could have one meal at a local restaurant, what and where would it be?
It would be at Gunther & Co in Baltimore. Since they cook with fresh, local and also globally-sourced foods, they change the menu often, but their miso and dijon marinated cod is awesome!
If you could travel to any city in the world for a "food trip," where would you go?
It would definitely be somewhere in Italy because there is such love put into making food there. Ideally, I'd go somewhere for fresh seafood, like Cagliari, which is the largest city on the island of Sardinia.
What is a favorite food related memory from your childhood?
My grandmother's fresh, homemade fried apple pies. We would eat them warm for breakfast with a lot of butter. As soon as the smell of her baked goods hit your nose, you knew it was time to wake up.
What are 2 or 3 things that are always in your refrigerator?
A head of red lettuce, raspberries and almond milk.