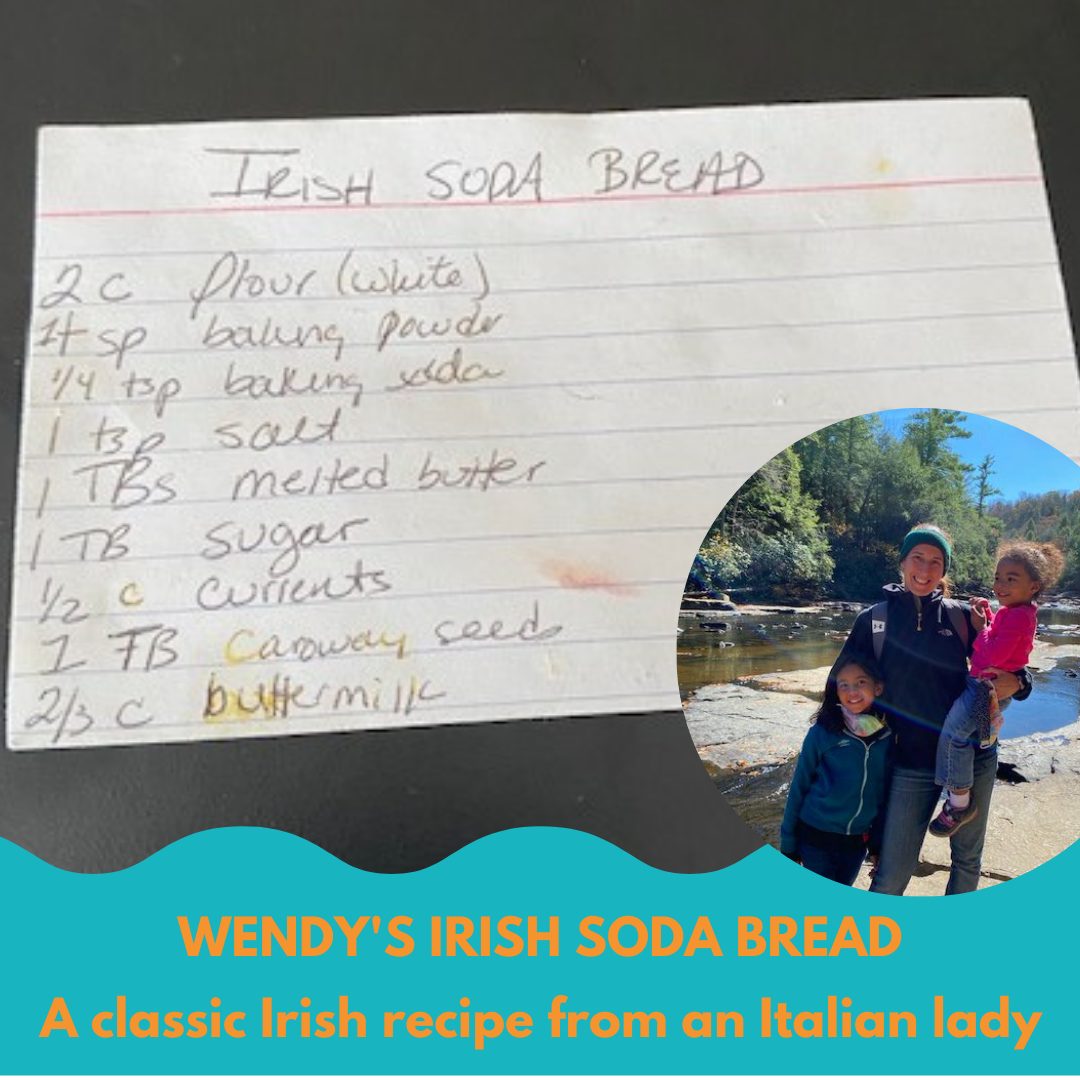 This recipe holds a special place in my heart for a few reasons. First, I have fond memories of making this recipe with my grandmother, then my mom, and now with my own two daughters. You have to get a bit flour-y and messy with your hands which makes it so fun.
Second, while this recipe helps to celebrate St. Patrick's Day, it also helps me to celebrate my grandfather. I like Irish soda bread much more than I like corned beef and cabbage to eat on St. Patrick's Day. (Though I do really like cabbage now that I've learned to braise it.) My grandfather was proudly Irish and St. Patrick's Day falls right around his birthday so it helps me remember and celebrate him since he's no longer with us.  
Finally, I love the story of how this recipe came into my family. Years ago my grandmother, who was very Italian and not at all Irish, wanted to make Irish soda bread to help my grandfather celebrate St. Patrick's Day. There was no handing down of recipes on his side of the family, so my grandmother reached out to her friends. After a few recipes that no one loved, she got this version which has become THE recipe for Irish soda bread in my family for what is going on 3 generations. For us, the addition of currants are the key to making this recipe special. 
I hope you roll up your sleeves this St. Patrick's Day and give it a try. 
Tip – if you don't want to buy buttermilk specifically for this recipe (though leftover buttermilk is great for pancakes and waffles) – you can add 2 tsps of white vinegar or lemon juice to the ⅔ cup of milk for this recipe and let it sit for 10min. You can learn more here.
Irish Soda Bread
Ingredients:
2 cups all-purpose flour
1 tsp baking powder
1/4 tsp baking soda
1 tsp salt
1 tbs melted butter
1 tbs sugar
1/2 cup currants
1 tbs caraway seeds
2/3 cup buttermilk
Directions:
Mix together all dry ingredients in a large bowl.
Add the currants and caraway seeds.
Next, add the melted butter.
Slowly add the buttermilk while stirring with a fork until wet but crumbly dough forms.
Turn dough out onto a lightly floured surface and knead by hand about 20 times until the dough is smooth.
Place atop a lightly greased sheet pan and bake at 35o for about 30 mins or until lightly golden on top.