#TWKatHome Activities
Careers, Chef and Activist
This week's theme: Careers, Chef and Activist
In this week of Food Careers we are taking a look at the Chef and Activist! We explore Catina Smith's career as a Chef and founder of Just Call Me Chef, "a call to action movement, highlighting Black Women Chefs."  We have a variety of activities for you to explore along with some excerpts from this year's Just Call Me Chef calendar!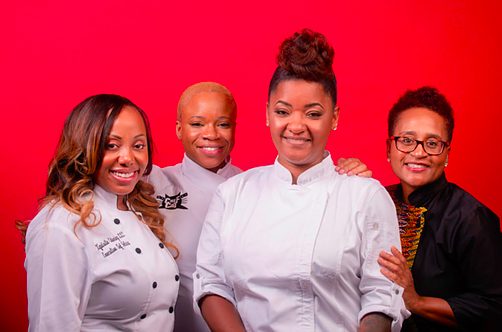 TasteWise Kids - are you hungry for some learning?
Do you know of any food businesses opening near you? Share a local food business that's opening their doors this summer to our social media! Facebook (@TasteWiseKids) or Instagram (@tastewise_kids) and use the hashtags #TWKatHome and #myTWKsalad, or email info@tastewisekids.org.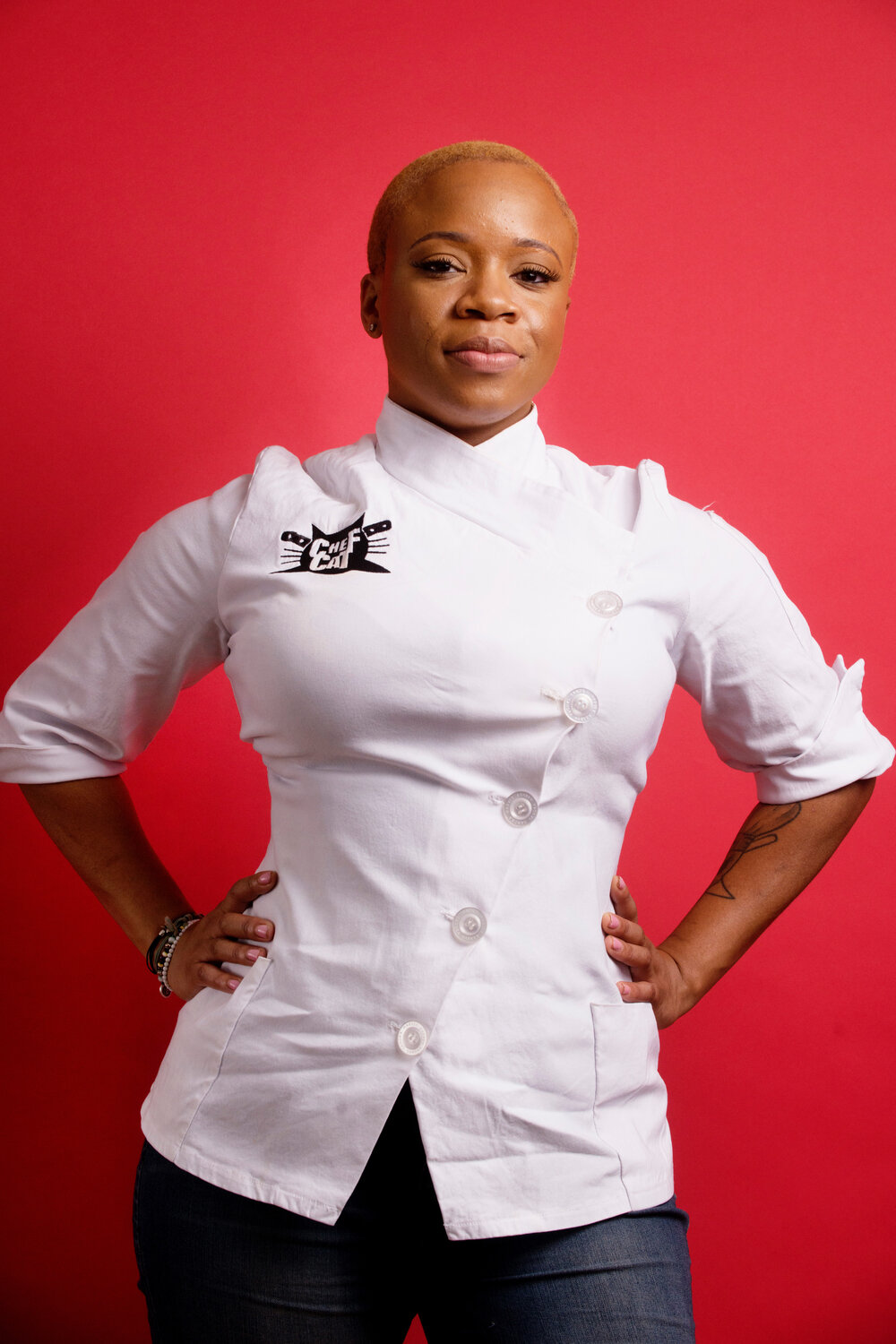 Let's explore what it looks like to be a Chef and Activist!
Chef Cat is at the crux of food and activism as the founder of the organization Just Call Me Chef (JCMC), a professional networking organization focused on supporting Black female chefs through mentorship, events, and education.
Chef Cat has always had a passion for food and knew early on that she wanted to go to culinary school. Since culinary school, Chef Cat has hosted private events and catering gigs, organized public showcases and cooking competitions, taught cooking classes, and worked in small cafes and boutique hotels. Through the variety of experiences Cat has had in the food industry, she has seen first hand the lack of equal opportunity in kitchens. Cat has overcome these challenges by shifting her focus entirely to advocating for equality in every kitchen by founding JCMC. One of the first initiatives in bringing awareness to the JCMC network was by creating a calendar that would spotlight the Black female Chefs making a difference in the local food industry and the JCMC network. "It got me [Cat] thinking that this could be so much bigger [than a calendar]. I thought it was important to build a network for us to help each other out, so I went deeper and said, we need mentorship, scholarships, and internships for chefs of color so that we can get into these fine-dining restaurants that we normally aren't."
To hear more from Chef Cat about her inspiration and efforts with JCMC check out this article from Baltimore Magazine that features her.
Below you can look through some highlights from the 2020 JCMC Calendar. Each month highlights a different Chef and their favorite recipe. In August, instead of exploring a recipe the calendar highlights the Equal Pay Day for Black Women, which is August 22nd.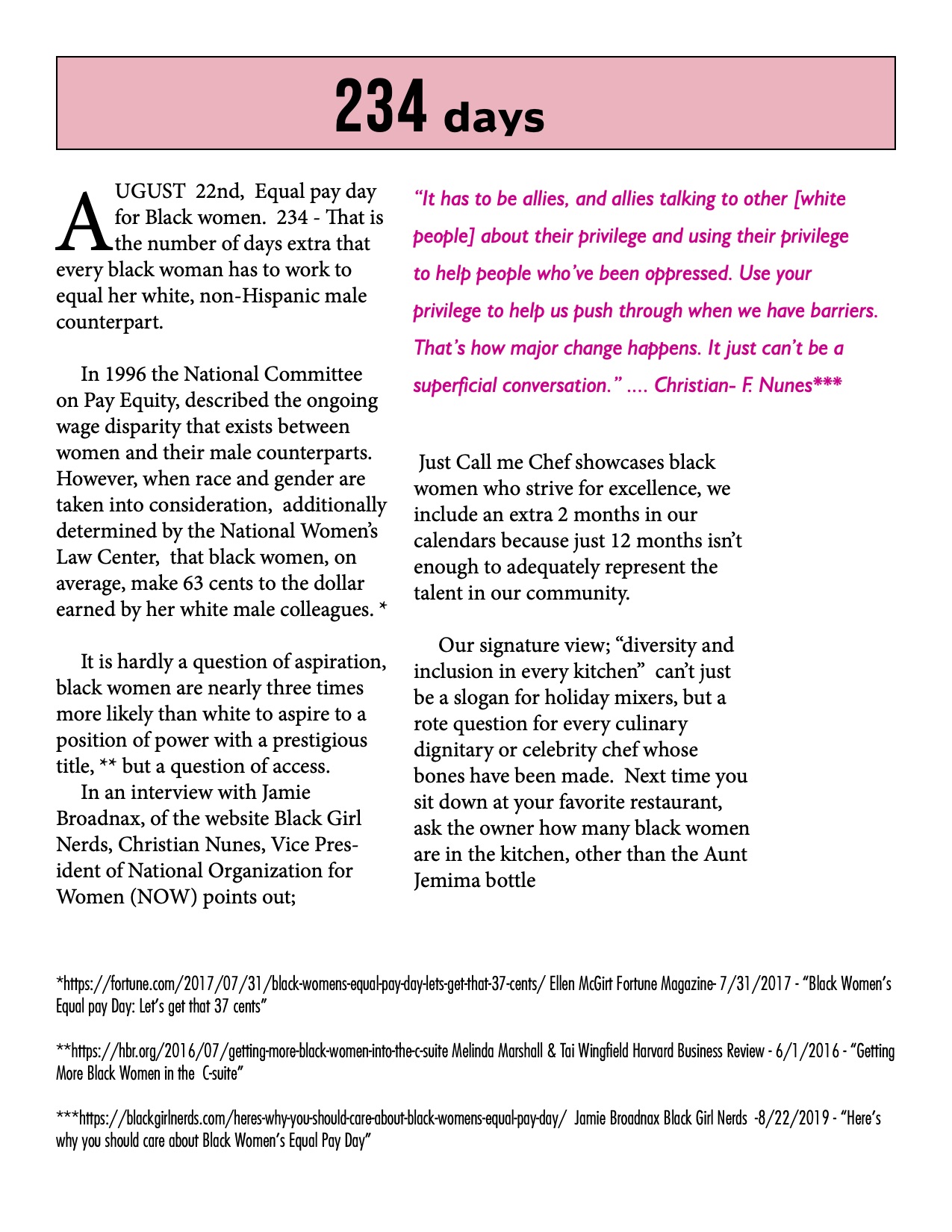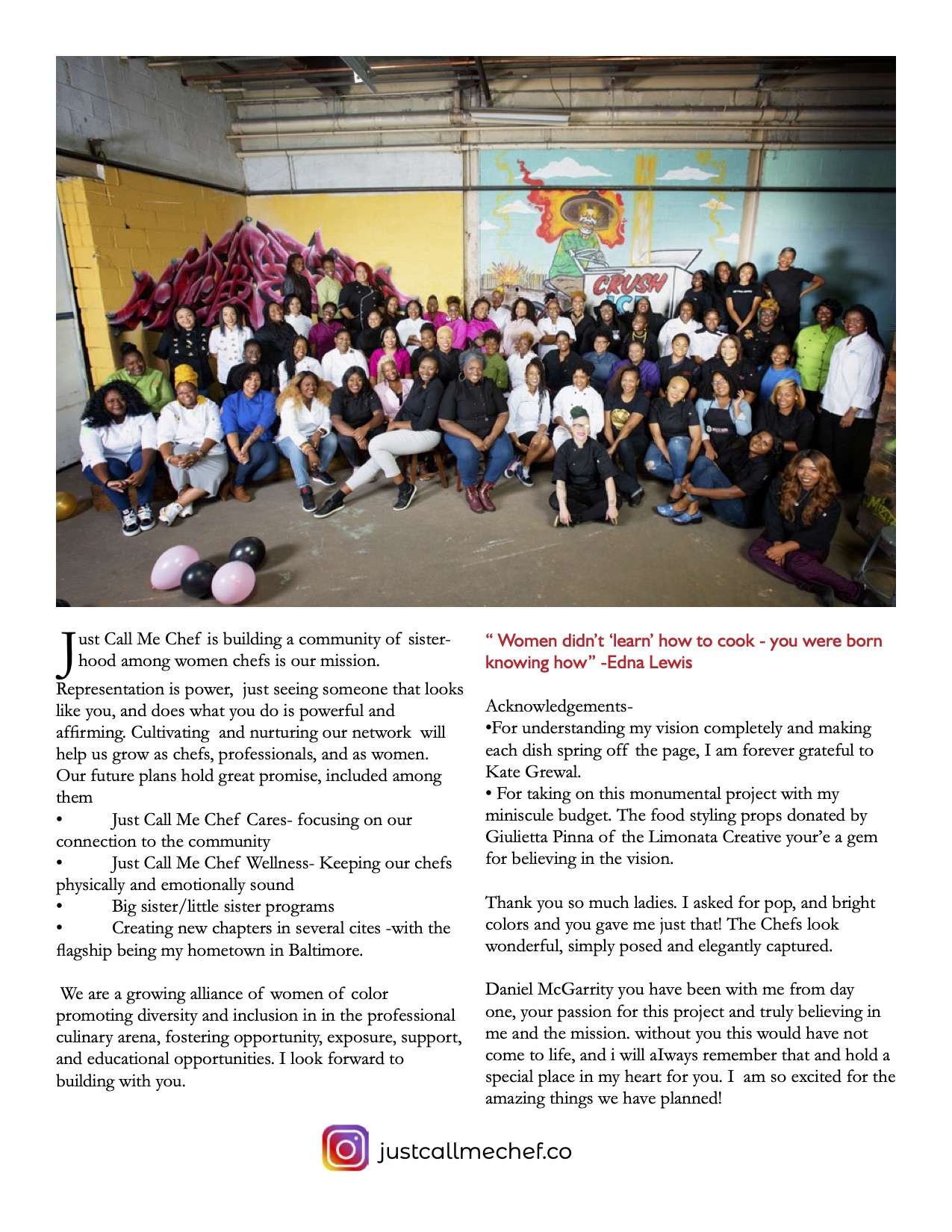 Activity
For this week's activity Chef Cat has shared one of the recipes from the Just Call Me Chef Calendar. The recipe comes from Chef Jamaria Crump, the owner and baker behind LemonTopia (@lemontopiabaltimore). Jamaria Crump was the youngest chef featured in the JCMC this year and has been developing recipes for her lemonade and dessert bar over the past 3 years. This recipe is perfect for the end of summer when peaches are in abundance!
Peach Lemonade Pie
Pie Crust:
6 oz of lemonade concentrate slightly frozen

(2 cups sugar & 21⁄2 cups fresh lemon juice)
1 cup butter
1 cup white sugar
2 eggs
3 cups sifted all-purpose flour
1 teaspoon baking soda
In a large bowl, blend together butter and sugar. Mix in eggs.
In a medium bowl, sift together flour and baking soda; gradually beat in butter mixture, alternating butter with 1/2 cup lemonade concentrate.
Form dough into a ball and then roll until about 1/4 inch thick. Press dough into a 12" deep dish pie pan
Pie Filling:
5 cups peeled and sliced peaches

1/4 cup frozen lemonade concentrate
1⁄4 large orange
3 tablespoons cornstarch
2 tablespoons sugar
Squeeze the orange and combine juice with lemonade concentrate.
Combine the peaches and lemonade concentrate in a large mixing bowl. Set aside for 10 minutes.
Mix cornstarch and sugar in a small bowl then stir into the fruit.
Scrape the filling into chilled pie crust and distribute evenly. Place the pie on the center oven rack and bake for 30 minutes and 375ºF.
As the pie bakes, make the crumble topping.
Crumble Topping:
1/3 cup brown sugar, packed

1/2 tsp ground cinnamon
4 tbsp unsalted butter, melted
2/3 cup plus 1 tbsp all-purpose flour
1/2 cup lemon zest
Combine all ingredients in a bowl. When the pie has baked for 30 minutes, spread the topping evenly over the pie. "Rake" it around with a fork to spread evenly. Slide the pie back into the oven at 375°F. Bake another 25 minutes, until the topping is golden brown and the juices bubble up thickly through the crumbs. Transfer the pie to a cooling rack and cool for at least 1 hour before slicing.
Keep Learning
If Summer Fruits Could Talk: Fun Facts About Peaches
This American well known summer fruit originated in China
Peaches are the state fruit of Georgia
Peaches and nectarines are the same species of fruit. Most ripe peaches are fuzzy, but when the skin is smooth it is considered a nectarine
Peaches are also known as stone fruits because of they have a hard wood shell around their seed
Peaches taste amazing cut up with Cool Whip on top