#TWKatHome Activities
Careers, Be Your Own Expert!
This week's theme: Careers, Be Your Own Expert
Welcome to TWKatHome! Our at home education focus is Food Careers. Over the coming weeks you will get to interact with many amazing local food professionals - from farmers to food truck owners to recipe developers.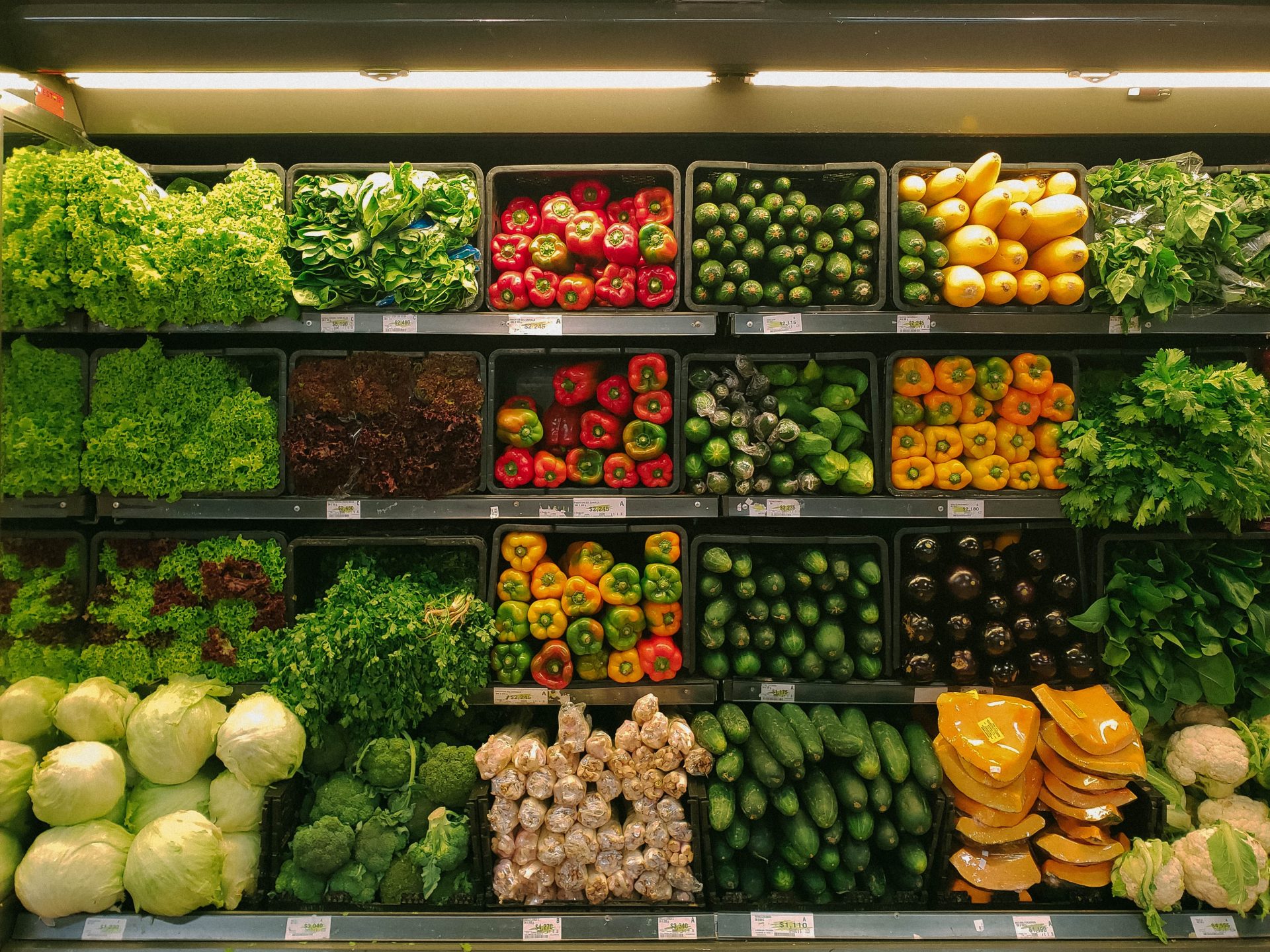 In this week of Food Careers we are turning to you as the expert! Over the summer, we explored so many amazing jobs in the food industry and there are still so many more out there. Now it's time to talk about your career in food!
TasteWise Kids - are you hungry for some learning?
Do you know of any food businesses opening near you? Share a local food business that's opening their doors this season to our social media! Facebook (@TasteWiseKids) or Instagram (@tastewise_kids) and use the hashtags #TWKatHome and #myTWKsalad, or email info@tastewisekids.org.
Let's Explore Your Expertise!
Usually, this is where we introduce someone who works in the food industry, but this week the focus is on you! You've learned so much about cooking and food careers over the past few months.
You've tested your knowledge in the kitchen with our new skills sheet. You've learned how to describe foods you do and don't like with words for taste. You know how to measure, multiply and divide recipes. And much much more! So we'd like to honor you as your own expert and teach you some ways to treat yourself like a food professional.
Be Curious
We loved exploring the science of salad dressing with you and how to find ingredients for pesto in your own backyard, but don't stop there! Just because you are an expert doesn't mean you can't keep learning. Visit a farm, try new foods and keep an eye out for more ways to explore food from TWK!
Ask Questions
Now that you're full of information about food, start asking questions to yourself and others. What's my favorite food? What do I like to talk about when I eat with others? What type of food career would I like to have?
Trust Your Instincts
The best part about cooking is that there's no right answer. If you think your french toast needs a little extra cinnamon or your salad would taste great topped with pine nuts, go for it! If something doesn't taste perfect, you can always try again another time.
Share Your Knowledge
Connecting with others through food is one of our favorite parts of cooking! Share with your friends and family the things that you've learned about food so that they can become experts too. Did you make or find something delicious? Tell others about it or give them a taste to see if they love it too.
Ready For More?
Two weeks ago we hosted our first virtual Farm to Chef event, where professional chefs went head to head in a cooking challenge. Feeling inspired? We think you've got the chops to be a chef too! Check out this week's activity on designing a menu and turning your dinner table into a restaurant.
Activity: Make Your Own Menu
Are you ready to run a restaurant? Build your own menu and practice using money with the activity below.
This activity is designed to turn your dinner table into a restaurant experience! Follow the easy steps below and use our printable menu template to help your kids learn about designing a menu, how to order in a restaurant and how to pay for food. Adapt this activity however best suits your family, and have fun!
You can use the directions below or print out the activity here: Make Your Own Menu Activity
Don't forget to share with us!
We would love to see what you put on your menu, send us a picture of the final product on Facebook (@TasteWiseKids) or Instagram (@tastewise_kids)! You can also email info@tastewisekids.org.
Instructions:
Step 1
It's time to decide what to serve at your restaurant! Menu items are typically divided into sections based on what point during the meal you eat each dish. Use the template on the second page or create your own from scratch. Need ideas? See page three for some easy dishes for each category.
Step 2
Set the scene! Great restaurants have great atmospheres in addition to delicious food. Take the time to break from routine and get ready for a 'night out.' This may mean eating in the dining room instead of the living room for a change. It could also mean setting the table with cloth napkins, turning on some music or dressing fancy.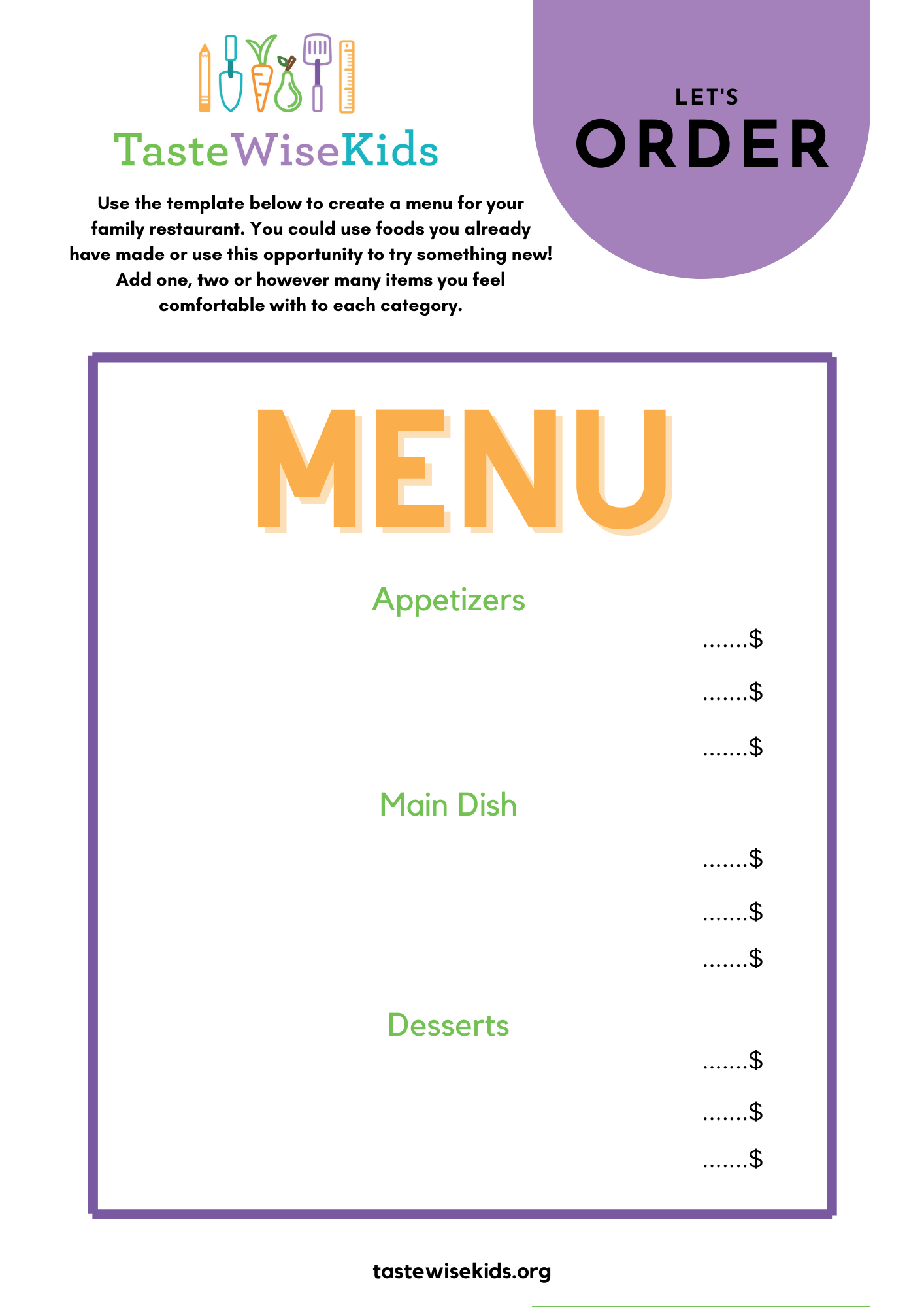 Step 3
Assign roles. There are many different people who work in a restaurant, from the host to waiter to the chef. Have fun stepping into the roles of some of these food industry jobs. You may want to be in charge of the cooking or bringing everyone their food, or you may want to give each role a try throughout the meal.
Step 4
Picking what you want is the hardest part! When ordering, you can either work together to decide what you want for the table--maybe you'll share an appetizer--or you can choose individually. Practice saying please and thank you to whoever is writing down orders.

Step 5
Everyone is full of delicious food but the meal isn't over yet. Before you leave your restaurant you have to pay. Use page four to practice using money and doing math.
Keep Learning
If Restaurants Could Talk: Fun Facts About Eating Out
The word "restaurant" is French for "food that restores"

The busiest day of the year for restaurants in Mother's Day

New York City is the most Michelin-starred US city 

15.6 million people work in the restaurant industry 

Italian food is the most popular ethnic cuisine in the US

The oldest American restaurant still in service is Boston's Union Oyster House