#TWKatHome Activities
Careers, Media Specialist
This week's theme: Media Specialist
In this week of Food Careers we are taking a look at the media specialist! We explore Marisa Dobson's multifaceted career; everything from food media, recipe developer, cookbook writer and nutritionist!
TasteWise Kids - are you hungry for some learning?
Do you know of any food businesses opening near you? Share a local food business that's opening their doors this summer to our social media! Facebook (@TasteWiseKids) or Instagram (@tastewise_kids) and use the hashtags #TWKatHome and #myTWKsalad, or email info@tastewisekids.org.
Let's explore what it looks like to be a media specialist by getting to know Marisa Dobson!
Marisa Dobson is the founder & principal of Scintillate, a PR & marketing consultancy for food & lifestyle clients. After a decade in the publishing industry, she now works with all sorts of entrepreneurs and content creators across the country. From the launch of Ida B's Table to the celebration of Gertrude's Chesapeake Kitchen's 20th Anniversary, she has helped new and established restaurants gain and hold attention in an increasingly competitive environment. She's also created splashy community-centered events like B'More Kitchen's Battle of the Brands, while nurturing small business brands like Charlottetown Farm and Stone's Throw Hash. A mentor for BCAN (Baltimore Creatives Accelerator Network), a founding member of the Chinatown Collective/Charm City Night Market, and a board member of Benevolent Baskets and A Workshop of Our Own, she regularly volunteers her free time & expertise for community causes.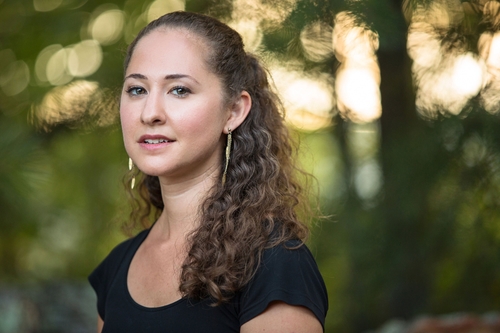 1. How did your career in PR (public relations) and media begin?
It began in college, actually! I attended St. Mary's College of Maryland and while a full-time student, I also worked part-time in the Marketing & Public Relations Office.
2. Was your career always centered around food?
No, though it's been a lifelong obsession! My father is a chef instructor and I grew up around professional kitchens and the colorful and lovely world of hospitality. I worked in non-fiction publishing for about a decade, and the last couple years worked on a lot of cookbooks. That was the transition to my current business.
3. How did you come up with the idea to host a three day training in June, called "So You Want to Write a Cookbook?"
I was inspired to share the specialized information and contacts I have with a wider audience. Publishing is a very closed, nepotistic business. I wanted to open that door for as many people as possible whether they were near or far (most of the attendees were out of town, including one participant in Barcelona!). I also had started receiving quite a few queries from potential clients that were hoping to revisit long standing book projects. I think the COVID realities were forcing many of us to reevaluate how we spend our time and what we really want to be doing with our waking hours.
4. Do you have a favorite step in writing a cookbook?
Or a favorite category of cookbook that you like to work on? I've only co-authored one cookbook, so I can't speak as an expert on authorship. But, my favorite part of the process when I'm writing or consulting is thinking creatively about format. Just because a cookbook normally has small plates, main dishes, and dessert arranged in that order, it doesn't mean that it needs to be that way. Many of the most interesting and useful cookbooks are formatted ingeniously! Think The Flavor Bible or Salt, Fat, Acid Heat.
5. Is there a process in writing a cookbook that you find the most challenging?
The hardest part is always figuring out what YOU (the author) bring to the table, what differentiates you from the millions of other cookbooks out there.
6. Is there a best "first step" in writing a cookbook?
Yes! Gaining a real first-hand knowledge of what's out there and what works. Browse through cookbook sections at bookstores and libraries. Ask the booksellers what customers are asking for by name or by subject matter. Look at recent bestseller lists and subscribe to the major food publications. If you can't name your top 3 cookbooks, then you don't have a real sense of the category.
7. Do you have a cookbook that you've worked on that allowed you to learn even more about food in the process?
Oh my goodness. I've learned from every one! The Art of Escapism Cooking taught me a lot about fortitude and technique. Coconuts & Collards brought home the importance and deliciousness of sofrito. Freedom Farmers taught me so much about the history of food sovereignty and intersectionality in American agriculture. I could go on and on.
8. Are you planning to host more virtual trainings
Yes! I'll probably do a weekend version of the course in the early Fall. The weekday schedule didn't work for some.
9. For people that are interested in learning more about what you do, where should they look?
My website, but feel free to follow me on social everywhere @marisa_dobson.
10. When you enter your website the quote "the right spark will turn passion into passion projects",  what was the inspiration behind that quote?
I've found in my work with professional creatives that they're usually spread in a million directions and doing incredible things with very little resources. This is wonderful but does lead to burnout. They don't tend to know how (or have the professional distance) to monetize these pursuits in a way that's authentic and in line with their values. I help them figure out how to turn that passion into something with defined goals and financial benefits.
If you want to learn more about Marissa Dobson's career, check out her website: https://www.marisadobson.com/
Activity: Quick Fridge Pickles!
Fridge pickles are an easy and delicious way to preserve your food. There are 6 easy steps to make fridge pickles.
Instructions are below or use this printable version: Fridge Pickle Recipe
Materials for Activity
1 Jar
2-3 medium cucumbers
1 tbsp salt
1 tbsp old bay seasoning
2 bay leaves
1-2 garlic cloves
1 tsp whole corns
vinegar
water
Instructions
The instructions for this activity are broken down into six easy steps for kids and parents to do together.
Step 1
Start by selecting the jar you are going to use. Since you don't need to seal the jar, you can use a recycled tomato sauce jar or a plastic tupperware too. For this recipe we are going to make pickles in a 1 quart jar.
Step 2
Select your vegetable! There are so many delicious summer vegetables that you can pickle! Here's a short list of one's you can choose from:
Green Tomatoes, Turnips, Cucumbers,Carrots, Onions, Okra
Step 3
Prep your vegetables. Start by washing your produce. You can slice your vegetable into thin rings (green tomatoes, cucumbers, onions, turnips), or long spears (cucumbers, okra, spring onions, carrots). Pack the jar full of your chosen vegetable!
Step 4
Make your spice mix. Depending on what flavor you would like your pickles to taste like you can +/- different spices to change the flavor, dill gives a cooling fresh taste, dried peppers give your pickles some heat, and curry powder can add a delicious twist. I encourage you to experiment with different batches to find what you love. Add your spice mix to the jar.
Step 5
Fill your jar half way with vinegar. My preference is apple cider vinegar, but any vinegar will do! Fill the jar the rest of the way (or until vegetables are fully submerged) with water.
Step 6
Twist your lid on tight and shake so that the spices mix evenly throughout the jar. Store your jar in the fridge for 3 days to 1 week before eating. Fridge pickles will be best for 3 weeks.
Stay Connected!
This Fridge Pickle Recipe is from Chef Kiah of Wilde Thyme, in partnership with TasteWise Kids. For more recipes and activities check out www.tastewisekids.org
We would love to see how your pickles turn out, send us a picture of your final product on Facebook or Instagram tag us and use the hashtag #TWKatHome. You can also email info@tastewisekids.org
Keep Learning
If Sweet Treats Could Talk: Facts About Ice-Cream
Originally named cream ice, ice cream stems from early European roots in the late 16th, early 17th  century.
Ice cream is said to derive from the iced fruit dessert we know as sorbet when Antonio Latini added cream to the recipe.
The first American ice cream parlor opened in New York City. (1776)
Although the time ice cream was brought over to the United states is uncertain, we claim the creation of the ice cream soda (1874) and the ice cream cone (1904)
New Zealand is currently in the lead for the country with the largest amount of ice cream consumption