#TWKatHome Activities
Kitchen Mathematics
This week's theme: Kitchen Mathematics - an inside look at the math behind recipes.
If you don't see a connection between food, cooking, and math, by the end of this lesson, you will! More importantly, learn how to make a salad dressing that comes out perfect each time, regardless of what ingredients you have on hand.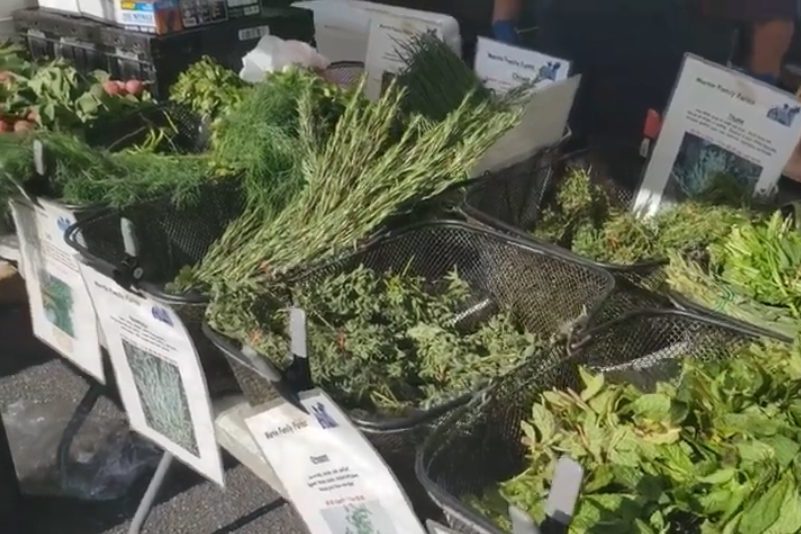 Learn from an Expert
Beau Z. Johnson at the Waverly Farmers Market
Today we have Beau Johnson of the Waverly Farmers Market as our expert. Beau is the VP of the Market's Board of Directors and handles all their media and marketing. Beau and his niece Alexys, a budding cook, give us a tour of the market and then bring us into their kitchen to show us how they put together a fresh salad! They also highlight some of their favorite vendors from the farmers market that are featured in the video.
McCarthy Farm
Giovanni's Garden
Living Lettuce
To take the tour follow this link, or watch the video on this page.
Activity: Salad Dressing Ratios
Recipes are a wonderful way to teach yourself how to cook, but sometimes you might be missing an ingredient or you might want to try making up your own recipe. The best way to improvise and create your own recipe is by understanding how different factors can change how food works together. For example, fat, salt, acid and heat can all drastically change how our food combines and tastes.
Materials for Activity
Download the printable version of Salad Dressing Ratios.
(Optional Ingredients/Materials)
Oil (choice of vegetable, avocado, canola, peanut, sunflower or extra virgin olive oil)
Vinegar (choice of rice, white, red, balsamic or apple cider)
Dijon mustard
Honey
Avocado
Lemon juice
Salt
Fresh herbs and garlic
Measuring cups
Measuring spoons
Connect with Us
Post your salad dressing recipe or send us a question about multiplying or dividing recipes for Chef Kiah to answer on  Facebook or Instagram, tag us and use the hashtag #TWKatHome.
Instructions
The instructions for this activity are broken down into four steps with directions for kids and for parents.
Step 1
For Kids
Follow the activity sheet to learn about fat, salt, acid and heat.
For Parents
Explain:
Elements of taste work together in all sorts of things we eat. Chocolate pretzels are a classic example of salty and sweet, and the combination is what makes them taste good.
The best recipes combine the perfect amount of flavors (sweet, salty, sour, bitter to create the food we love. When making your own salad dressing, you want to find a similar balance.
Step 2
For Kids
Ask yourself "How do I know how much of each ingredient to use without a recipe?"
For Parents
Using the activity sheet, share the premise behind ratios. Ratios are a way to explain how much of one thing is compared to another thing.  For example, a good salad dressing ratio is
3 parts oil, and 1 part vinegar or
3 to 1 or
3:1
Step 3
For Kids
Now that you have an overview of ratios, let's use the 3:1 ratio to combine ingredients in a bowl to create our own salad dressing.
Choose one oil and choose one vinegar from the optional materials list to make your salad dressing base.
Pick 3 items from the (extra flavors list)
For Parents
Follow along on the activity sheet to help suggest flavors that can be added to make either a mustard, avocado, or herb dressing. Talk through the types of flavors. Are they spicy, sour, sweet, creamy or salty?
Step 4
For Kids
Try writing your own dressing recipe using the  template provided and keeping in mind the 3:1 ratio. Be sure to include:
3/4 c oil and 1/4 c. vinegar for your base
List two "extra flavors" and a pinch of salt to give added flavor.
For Parents
Talk about other flavors or recipes that can be made using this ratio.
Key Activity Points
A ratio is a way to explain how much of one thing is compared to another thing.
The foods we eat balance many different elements of taste.
We can use ratios to better understand how to mix food and create our own recipes.